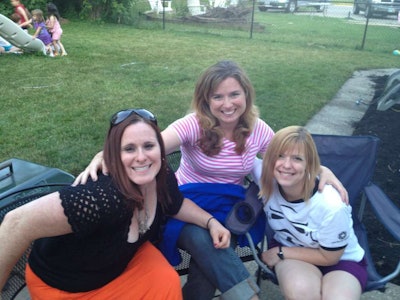 Day Three of my journey was pretty low-key – at least in my eyes. (Others would say it's complete chaos, but that's my norm!)
I managed to sneak out early in the morning for a super-quick jog and came back to my folks' house with all four boys awake and ready to go. (My sister and her boys were still in town at my parents' house.)
We wrangled up all the boys and took them to church. That's always a "fun" experience. It was truly an art trying to keep them all apart during the mass so they didn't wreak havoc or see who could make louder bodily function noises. (Sorry, I hope I'm not offending anyone, but that's what these kids do when they get together.)
After church, it was time for my sister to pack up and leave. I stayed all week with my parents and just planned to work from Cleveland and head out on the weekend on the next leg of my journey.
After church, the boys just rode their scooters, read with my parents and hung out visiting.
That evening, I packed up my boys in the car to go to a cookout with my two best girlfriends and their families and kids.
By this time, the 45-minute car ride to get there was just a quick jaunt to them.
I had a great time catching up with my friends and their hubbies and letting the kids all play. With all of our kids, we had a total of seven kids plus a few other neighbor kids.
Sounds a bit crazy, but it was fantastic. The kids ran and ran and ran and ran around…and then completely crashed.
I hit the road back to my parents' house, and the boys were out!
Success!