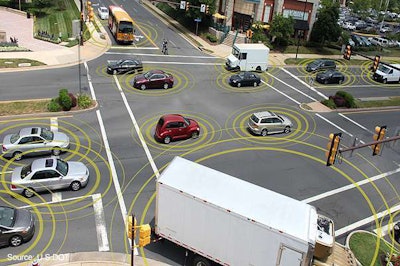 Vehicle-to-vehicle (V2V) technology will soon be included in all new cars.
The National Highway Traffic Safety Administration (NHTSA) announced Monday that it plans to "begin taking steps to enable V2V communication technology for light vehicles."
NHTSA Acting Administrator David Friedman said the technology is expected to improve safety.
"V2V crash avoidance technology has game-changing potential to significantly reduce the number of crashes, injuries and deaths on our nation's roads," Friedman said. "Decades from now, it's likely we'll look back at this time period as one in which the historical arc of transportation safety considerably changed for the better, similar to the introduction of standards for seat belts, airbags, and electronic stability control technology."
Federal Highway Administrator Victor Mendez told Better Roads last year that V2V technology could make driving safer and easier by including less human intervention.
V2V technology is designed to prevent crashes by allowing cars to "talk" to each other. NHTSA noted in its announcement that V2V-enabled vehicles exchange safety data at ten times per second while delivering "60-degree situational awareness," providing drivers with warnings to help prevent common crash types.
The agency expects the technology to prevent 70 to 80 percent of crashes involving unimpaired drivers, according to the DOT's Fast Lane blog.
Some concerns that have previously prevented V2V technology included privacy issues, liability in the event of a crash and cost to implement the technology. NHTSA said on Monday that the information sent between vehicles only contains basic safety information, and that it does not include information to identify the vehicles. The agency also noted that the V2V system "contains several layers of security and privacy protection."
NHTSA is expected to address other concerns in its research report on its year-long V2V pilot program. The agency is finalizing the data and has not yet announced when it will publish the report.
For more details about NHTSA's V2V Communications program, visit icsw.nhtsa.gov/safercar/ConnectedVehicles.