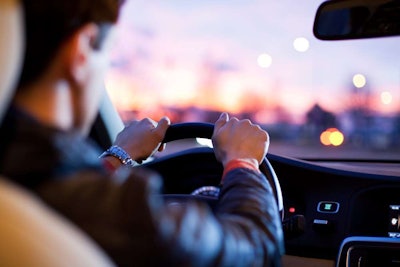 Safety is the top priority when considering new innovation in transportation and infrastructure, Federal Highway Administrator Victor Mendez said in an interview with Better Roads during the Intelligent Transportation Society of America's (ITS America) Annual Meeting.
Mendez explained that in 2011, the number of highway deaths decreased by 26 percent, compared to 2005. The grand total in 2011 was 33,000, but Mendez said that number needs to continue to fall.
The Federal Highway Administration (FHWA) looks at ideas for the public and private sectors that have already been deployed and that could possibly be implemented in the future to improve those numbers, Mendez said.
Mendez added that less human intervention on the roads could help make travelling both safer and easier. One way to implement the idea is with connected vehicles that can communicate vehicle-to-vehicle or vehicle-to-infrastructure.
Mendez also suggested driverless vehicles as a solution, which would allow vehicles to travel more closely without crashing. Driverless vehicles would also allow for smaller lanes. Mendez said lanes are traditionally 12 feet wide to accommodate for human err, but driverless cars would not need as much space.
Driverless vehicles have been in the works for years and may even be a possibility in the next five years years.
There are other technologies already available, like weather monitoring systems, which simply make traveling easier.
In addition to safety, it is also important to consider traffic congestion and the environment, Mendez said. Innovations should make traveling more efficient, improve air quality and generally make reaching their destinations easier for people on the roads.
"It's also about improving their quality of life," Mendez said.
Mendez noted that how the technology is deployed is as important as what is implemented, adding that "it needs to be done smartly."
Mendez said a lot of people are working on transportation solutions, and the FHWA intends to take notice of everything safety-related. However, not all solutions have to pertain to vehicles and infrastructure. The FHWA is also willing to hear about ideas about pedestrians, bikes and more.
Mendez also said the FHWA is encouraging people to think innovatively, noting that the big ideas aren't the only important ideas. Mendez said people are welcome to share process ideas as well.
"There's a lot of potential out there, and if it's safety-related, we will be listening," Mendez said.
To contact the FHWA, visit fhwa.dot.gov/contact.