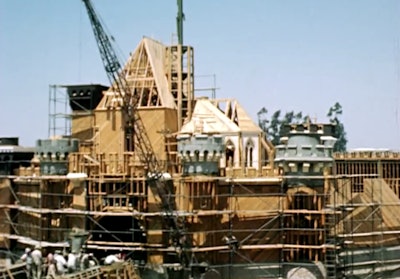 Disneyland first opened its doors on July 17, 1955, meaning that in just a few months, the iconic theme park will turn 60 years old. As part of the celebration, Disney began digging through its archives recently and uncovered rare time-lapse footage shot during the park's construction many at the company had forgotten about.
While time-lapse footage is somewhat common today, especially on bigger projects, it was anything but back in the 1950s. But this is Disney we're talking about, so of course they engineered massive camera towers with 8mm cameras run by a wound-up timer system. Brilliant.
In the video above, you'll see crews setting up the cameras, workers lifting the main structure of the classic Rocket to the Moon ride, building Sleeping Beauty Castle, a still-land-bound Mark Twain Riverboat and Main Street USA rising from the dirt. It's quite remarkable so don't miss it below.