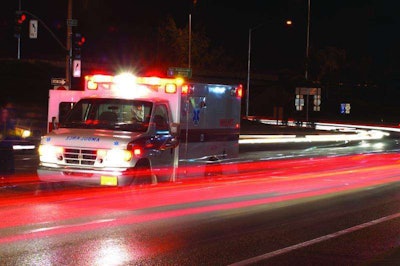 When Curtis Todd's co-workers saw him lying flat on the ground as the crew worked on a residential jobsite in Columbia, Missouri, they thought he had simply slipped when hooking a chute to the back of a concrete truck.
Co-worker Bill Parsons said the crew even joked about it. That was before they saw the blood.
According to a report from the Columbia Missourian, seconds after they realized Todd was bleeding, his co-workers dialed 911. The dispatcher told them to do what they could to control the bleeding, so Parsons removed his shirt and wrapped it around Todd's head.
The dispatcher then told them they'd have to administer CPR. So, co-worker Travis Greenup took over, performing CPR on Todd for nearly 8 minutes. Paramedics took over when they arrived and shocked Todd with a defibrillator before rushing him to the hospital.
Todd was admitted to the intensive care unit. Since then, he has been responsive the paper reported. Doctors said he had suffered a heart attack, fell and gashed his head on the pavement.
Greenup's actions likely saved his co-worker's life. Often, construction safety meetings revolve around fall prevention and safe behavior/operation in and around heavy equipment. But in the event of a stroke, heart attack or other ailment on your jobsite, CPR training for the crew or maybe just some in the crew, could mean the difference between life and death.