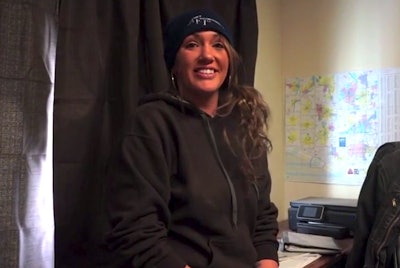 "What am I doing here?"
That was Patricia Hook's first question when she arrived at J. Pettiecord two years ago. The mother of two didn't have a driver's license or any construction experience, and she looked around the Des Moines, Iowa, contractor's yard filled with heavy trucks and equipment, and "it kinda scared me."
Despite her fear, within a few months after doing general work at the demolition and tree removal firm she had her Class B commercial driver's license and started driving a dump truck. A few months later she got her Class A CDL, driving the firm's heavy-haul tractor trailers.
While driving at dump truck a jobsite in Winthrop, Iowa, Patricia's curiosity got the best of her. Jeff Pettiecord, president of J. Pettiecord, was using a Cat 973 track loader to load Patricia's truck, but then was called away from the site. She used the opportunity to climb into the cab. "I thought, well I'll either get fired or he'll tell me to keep on going," she recalls. Working the levers, she figured out how to fill a bucket. "By my second bucket, Jeff came back, and told me to keep on going, and that was my start."
She was hooked on equipment operation. She started in the company's equipment yard, moving salt with a compact excavator. "The smaller machines are really jumpy, so it was more relaxing getting in a bigger machine, since they're so much smoother," Patricia says.
Next, Patricia found herself on a job using a Cat 325 with a Morbark tree shear head to process cut trees to put in the company's Peterson grinder. Now she's advanced to the point that she's running her own crew. "She's running more jobsites now," says Nick Wylie, Pettiecord's executive vice president, "and the degree of difficulty keeps on increasing. In such a male-dominated industry, Trish has earned respect in and outside the company."
"It's really exciting," the 23-year-old says of running equipment, and construction in general. "Nothing is ever the same and there's a lot to look out for. You've got houses next to you and utility locates underground, and you've got to constantly think about what you're doing."
And she's passing on her enthusiasm for her job to her two daughters, Kimberly, 6, and Tanya, 5.
"They're really excited about what I do," Patricia says. "They see the big trucks and equipment and love it about as much as I do." When J. Pettiecord was tearing down a building in Des Moines, she brought the kids to work. Wearing hard hats and safety vests, they stood at a safe distance and watched the building come down. "They were just thrilled. It was really exciting for them to come to work to see what I do, and I think it's going to teach them a hard work ethic, too."