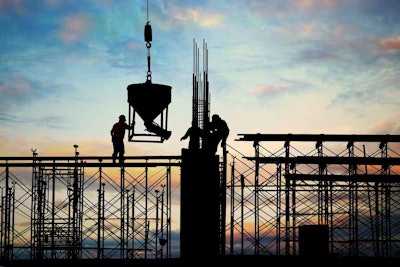 After finishing 2014 with employment at nearly a six-year high, hiring within the construction industry is expected to expand at an even faster rate in 2015, according to a new survey and forecast from the Associated General Contractors of America.
According to the survey, which solicited response from more than 900 construction firms in 48 states and the District of Columbia, a huge 80 percent of these firms said they plan on expanding their payrolls in 2015. The figure easily trumps that of last year's survey when only 57 percent of contractors said they planned on hiring.
However, most of the responding firms only plan on making modest expansions. Of those firms that plan on hiring in 2015, 90 percent plan to expand their number of employees by a 25 percent or less.
Should these expectations pan out, Stephen E. Sandherr, CEO of the AGC, said construction employment could expand faster than it has since 2005.
The state with the highest percentage of respondents planning to make new hires was Virginia at 95 percent.
AGC chief economist Ken Simonson warned however that though there is optimism in the industry, these firms will continue to face a shortage of skilled workers to choose from when they do begin hiring.
In this latest survey, 87 percent of firms said they have had a hard time filling skilled positions. Craft workers appear to be the hardest to find with 76 percent of firms saying they have had trouble filling those positions while 62 percent say the same for project managers, supervisors and estimators.
Contractors have responded to this difficulty by increasing pay and benefits to ensure they keep the employees they already have. Of the respondents, 51 percent have increased base pay rates to retain construction professionals while 46 percent have done so to keep craft workers. Beyond that, 25 percent said they improved their benefits packages for their employees while 20 percent have done so to retain craft workers.
Only 7 percent of the firms surveyed said the plan on reducing payrolls. Utah led all states in this respect with 15 percent of the responding firms there saying they planned on cutting employees this year. You can get more state-by-state breakdowns of the survey here.
For the first time since the AGC began the survey in 2009, a majority of contractors are optimistic about the coming year, with 60 percent saying they expect the market will grow. Another 21 percent said they expect the market to grow in 2016.
With that optimism, 44 percent of the responding firms said they plan on pursing projects outside of their traditional geographic market areas.
To meet those new demands, these firms won't just need new employees, they'll need more equipment. Of the respondents, 79 percent said they plan to purchase new equipment this year while 81 percent said they plan to lease. Two-thirds of the respondents said these equipment purchases will be $250,000 or less.
And AGC officials agree with this optimism, noting that "growing demand for private-sector construction should drive growth in 2015." The survey found most contractors to be optimistic about the retail/warehouse/lodging segment as well as manufacturing, private office and energy construction.
The only public sector segments contractors noted optimism for were those not entirely dependent on federal funding including, water and sewer, highway and education.