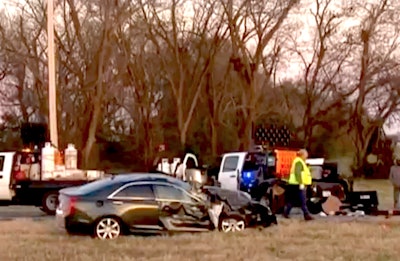 A road construction worker died earlier this week, succumbing to injuries sustained in a work zone crash in Louisiana.
According to a report from KTVE/KARD, workers were installing reflectors northbound on Highway 165 near Caldwell Parish Tuesday when the crew's tar machine broke down. A pickup then pulled up behind the workers with a flashing arrow board to warn oncoming drivers and protect the crew.
Soon after, a woman driving a Cadillac ATS was driving northbound when she looked down to adjust the radio. She looked up just as she approached the pickup and tried to switch lanes but was too late. The car crashed head-on into the rear of the pickup and three workers were hit.
According to the stations, two of the workers were transported to the hospital with moderate injuries and 30-year-old Michael Roberts was airlifted due to critical injuries. Roberts died later that night.
You can read up on how to stay safe on your crew's work zone by clicking here.