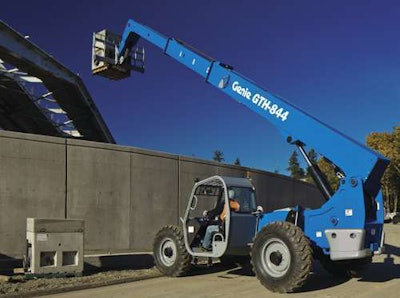 Terex Aerial Work Platforms plans to launch an online operator training program for telehandlers by the end of this year, according to a report from KHL's Access, Lift & Handlers.
Terex AWP is still in the process of developing the program which it plans to officially launch at The Rental Show next February in Orlando. The online program is said to include videos, graphics and interactive quizzes and will conclude with a 40-50-question exam.
ALH reports that the program will be similar to the Genie Lift Pro online training scheme, consisting of four one-hour-long online courses followed up by hands-on training at a Genie dealer.
The cool thing about the online training is that it covers all makes and models of telehandlers and that it will "mirror the depth" of the company's 98-page packaged training. The hands-on training, however, will be machine-specific, ALH reports.
A final cost has not been set but Scott Owen, global marketing training manager for Genie, told ALH "pricing will likely reflect that of the Lift Pro scheme, which is $299."