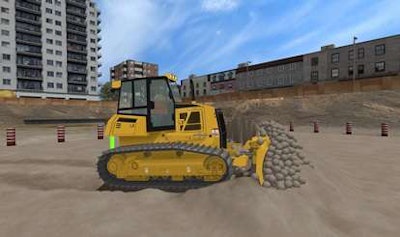 Provide comprehensive training for new operators with VISTA Training's new PC-based dozer simulator from Simlog, which complements the company's dozer training programs.
The simulation software features a medium-size dozer at work on a construction site, and has seven simulation modules to train entry-level operators on core skills and basic machine operation, including controls familiarization, dozer positioning, using the blade to control the path of a boulder, using the blade to backfill a trench, slot dozing and spreading.
Replica controls that mount to a tabletop and an operator chair with operator seat and mounted industrial controllers are available for a realistic training experience, and the simulator can be customized to suit a wide variety of machines. Configurations include separate foot pedals for decelerator and brake or a single pedal, and blade speed can also be adjusted.
As trainees use the simulator, the software records data to measure how quickly and carefully the work is performed. Twenty performance indicators such as task execution time and machine collisions are tracked for use in diagnostic coaching.