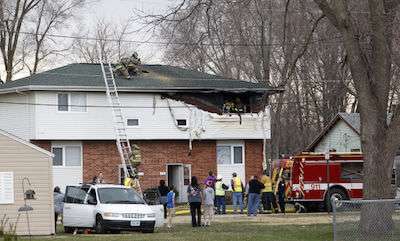 After seeing signs of fire at a home near their Iowa jobsite, two concrete workers braved the blaze Monday afternoon to save two children.
According to a report from the Waterloo-Cedar Falls Courier, Travis Moen and Ryan Siems were working on a driveway installation in Evansdale when they noticed a nearby duplex was burning.
After attempting to put out the fire, which fire officials believe was started when one of the children was playing with a lighter, the children's mother was able to flee the home. She attempted to get back in to rescue the children but couldn't regain entry.
That's when Moen and Siems showed up.
Evansdale Fire Chief Ryan Phillips told the paper the two men immediately went into the home and rescued a 3-year-old from upstairs and a 5-year-old from the ground floor. "They saved the day, pretty much," Phillips said.
No one was injured in the ordeal.
Last month, a construction worker in Indianapolis provided similar heroics when he rescued three children and their mother from a burning home.