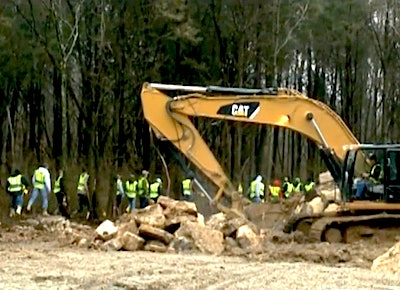 Work has slowed on a Louisville, Kentucky, jobsite where construction workers recently gained a bit more company as police and volunteers are combing the area after a skull was found on the jobsite early last week.
According to a report from WHAS TV, workers excavating a site for a Habitat for Humanity neighborhood found the skull March 9.
Later in the week, a forensics team was present on site, "sifting through rock and soil," to see if more human remains might be hidden there.
Police told WHAS they believe the skull had been at the site between seven and 15 years but did not reveal the age, gender or race of the person it belonged to.
Police are also still trying to determine whether the person's cause of death was homicide or natural causes.
In the search for clues, Louisville investigators continued to monitor the site and even brought in a large group of volunteers to comb the site and surrounding area looking for, "clothing, hair or possible bone fragments."