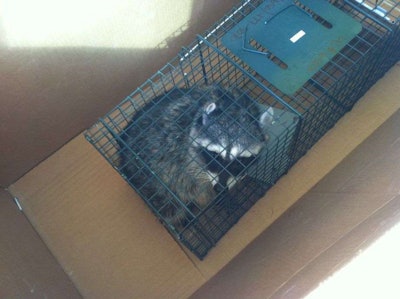 "I'm going to do what is necessary for this raccoon."
According to a report from the San Francisco Chronicle, those were among carpenter Todd Sutton's last words while still employed by RFJ Meiswinkel Co., and he has no regrets.
Sutton was recently fired by the company after he freed a raccoon that had been causing trouble at the jobsite for an expansion of the San Francisco Museum of Modern Art. Webcor Builders, the project's lead contractor, had hired professional trappers to catch the animal.
Sutton said on February 27 he put the caged raccoon in the bed of his pickup and covered it up, "to keep him in the dark, because you know, he's a nocturnal animal," he told the paper.
He then called San Francisco Animal Care and Control to see where he could release the animal safely. Later in the day he released the animal near the Bay Bridge as the department advised and returned the cage to the jobsite, the Chronicle reports.
Webcor vice president Matt Rosie said Sutton was fired for "sneaking" the trap from the construction site. "For him to remove any property from the jobsite is basically theft and it wasn't going to be tolerated," he said.
Sutton says he never denied or tried to cover up his actions. He has since gotten another job, though it pays less. He has hired an attorney is considering suing RFJ Meiswinkel, the Chronicle reports.