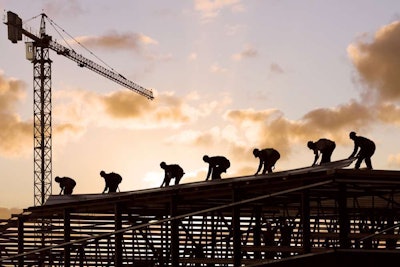 U.S construction firms added 29,000 workers to their payrolls in February, extending the industry's streak of employment gains to 14 months.
The industry now employs 6.353 million Americans, according to preliminary data from the Labor Department.
The new data also revised the employment figure for January upward from the previously reported 6.314 million, to 6.324 million. The revision increased January's monthly gain from the previously reported 39,000 to 49,000.
Despite the addition of workers, the industry's unemployment rate rose from 9.8 percent to 10.6 percent in February. Economists often note with unemployment gains that it's actually not always a bad sign as it means more people are rejoining the workforce.
The U.S. economy added a total of 295,000 jobs in February while the unemployment rate fell from 5.7 percent to 5.5 percent. According to a report from the Wall Street Journal, the U.S. has added more than 200,000 jobs for 12 straight months, the longest streak since 1995.