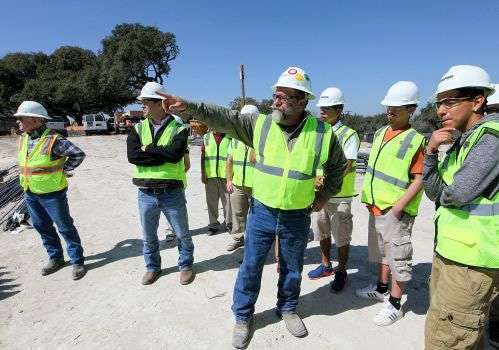 Highlands High School in San Antonio, Texas is turning progress into a teaching moment.
The school is currently undergoing a $65.7 million renovation which involved several of its buildings to be torn down to their foundations and rebuilt, according to a report from the San Antonio Express-News. Seeing the construction as an opportunity, Al Gamillo, the school's architecture program director, had his students tour the jobsite.
"To have these kids see something built from the ground up, it's invaluable," Gamillo told the paper. "I don't think they know how lucky they are."
The tour was led by project superintendent Dale Nieder from the lead firm on the site, Joeris General Contractors. Nieder used the tour to teach the students about foundational structure and how the harsh winter weather affected the project.
Gamillo's program is very hands-on. It requires the 70 students enrolled to design everything from furniture to dream homes. Some of the students even helped design the school's new library.
The students graduate well-prepared for college level architecture programs having experience with 3D-modeling systems and computer-aided drafting.