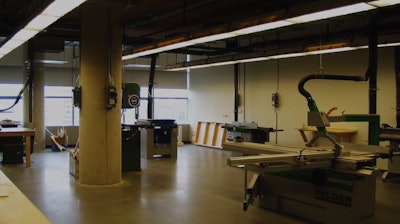 Recently, TV star and former host of Dirty Jobs Mike Rowe gave some national attention to a story that likely wouldn't have made it out of the small Illinois town it originated in.
The school district over Ottawa Township High School recently cut its building trades class and fired the instructor of the program, according to a report from the local paper, The Times. Outraged by the decision, students protested during school hours in the school's main hallway. After refusing to return to class, the students were suspended and are now not even allowed to attend their Senior Prom.
Undeterred, the suspended students continued protesting on the side of the street near the school where they were joined by parents and union members. More than 100 people showed up to a recent protest including carpenters, steelworkers, laborers and pipefitters.
In a blog post on his Profoundly Disconnected website, Rowe notes that he doesn't support many protests but is "standing with the kids at Ottawa Township High School." Rowe is likely the foremost advocate for construction, the trades and vocational education around. His mikeroweWORKS foundation provides $15,000 vocational school scholarships to students who will take his SWEAT pledge.
"I like what's happening. I like that these kids are willing to suffer the consequences of speaking their minds. I like that the local trade unions are supporting them," Rowe wrote. "I like that the press is covering it. But mostly, I like that somebody is standing up for the skilled trades. Finally. In a place where it really matters."
"When the performing arts were cut from high schools, there was a great outcry. And with good reason," he continued. "Music and drama transform countless kids into something better than they were. I was one of them. But when the vocational arts got cut, no one made a peep. And that was a big, fat mistake that the country is paying for in a huge way."
Rowe also made a video in support of the students that is a bit of a parody of the controversial "I am a Factory" ad he did for Walmart. You can watch "I am a Woodshop" below.
[youtube b50_bRcUi00 nolink]