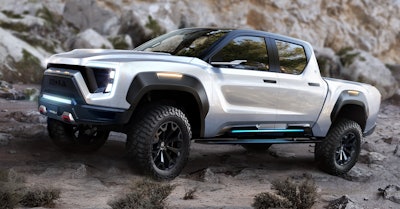 Nikola's plans to deliver an electric pickup truck are full steam ahead. However, the circumstances have changed slightly.
Today Nikola and General Motors announced the formation of a strategic partnership that will see GM handle the production of Nikola's upcoming Badger pickup in return for a $2 billion equity stake in Nikola. Under the agreement, GM also becomes Nikola's sole provider of hydrogen fuel cells for Class 7 and Class 8 trucks outside of Europe.
Though Nikola will remain and independent company, the deal gives GM 11 percent ownership of Nikola, as well as the right to nominate one director to the company's board.
The primary aspect to this deal pertains to the Badger pickup. Nikola unveiled the design and planned specs for the truck in February. So far, the Nikola plans for the truck to deliver 980 lb-ft of torque, 906 peak horsepower and 455 continuous horsepower with a towing capacity of more than 8,000 pounds.
Under the partnership, GM will engineer and manufacture two versions of the Nikola Badger: one that is powered by GM's Ultium battery system and another powered by a GM's Hydrotec hydrogen fuel cell technology. During the initial unveiling, Nikola said the aim was for the battery-powered version to have a 300-mile range.
It's important to note that this approach to the Badger's production has mostly been Nikola's plan from the start.
When the Badger was announced Nikola said it would be built in conjunction with another OEM and using that OEM's parts and manufacturing facilities. The main thing missing from that plan that has been hammered out in the actual partnership we have today, is that GM will also be handling the engineering and the validation stages. Essentially, GM's role is a bit larger than what was initially conceptualized/stated.
Meanwhile, Nikola will be in charge of sales and marketing of the Badger—which will retain the Nikola branding despite being product fully produced by GM.
Nikola says that it stands to save more than $4 billion in battery and powertrain costs over the next 10 years in addition to more than $1 billion in engineering and validation costs. In addition to the $2 billion in stock, GM says it expects to receive another $2 billion-plus in additional benefits from the deal in the form of the contract manufacturing of the Badger, supply contracts for the batteries and fuel cells and EV credits that it will retain over the life of the contract.
The other aspect to the partnership deals with Class 7 and 8 trucks. GM will provide Nikola with its Hydrotec fuel cells for use in its planned semi-trucks. Nikola plans on entering production on the fuel-cell powered One and Two tractor models by 2023.
"You couldn't dream of a better partnership than this," says Nikola founder and executive chairman Trevor Milton. "By joining together, we get access to their validated parts for all of our programs, General Motors' Ultium battery technology and a multi-billion dollar fuel cell program ready for production. Nikola immediately gets decades of supplier and manufacturing knowledge, validated and tested production-ready EV propulsion, world-class engineering and investor confidence."