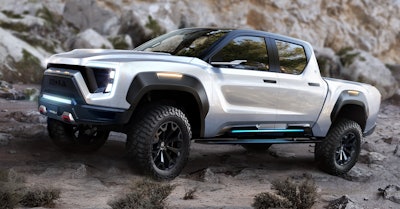 Paper or plastic? Or in this case, hydrogen or electric? Or both?
Either way, Nikola Motor Company has broken free of the all-electric pickup trend with the announcement of the 906-hp Badger pickup which features an estimated range of up to 600 miles.
Nikola CEO Trevor Milton says the truck is built to take on the Ford Raptor.
Taking down Ford's trophy truck won't be easy, which is why Milton has partnered with Diesel Brothers' Dave "Heavy D" Sparks who will design, build and test the Badger for millions to see on the popular reality TV show.
"My audience, hard-core truck enthusiasts, has expected me to push the limits of truck power and capabilities since my beginnings," said Sparks. "Being able to pull back the curtain of a production truck build is a rare opportunity where we can include the everyday truck owner to participate in the final outcome of design, exterior choices and performance specs. I wanted to be part of that story and now I have the opportunity with Nikola."
I recently spoke with Nikola CEO Trevor Milton who answered some of our burning questions following the company's big news. The Q&A is below
---
EW: Do the current Badger photos posted on Nikola's website actually depict what the truck will look like at its reveal? Or should we anticipate changes?
Milton: The photos are very accurate. You'll be able to see the Badger in person at Nikola World in September. It will look nearly identical to what you see today as we are already kicking off parts.
EW: What's the range while towing up to the stated max of 8,000 pounds?
Milton: 300 miles in BEV only; up to 600 miles in blended BEV/FCEV mode. Under full load it will be around 50% range so 300 miles just like a gasoline or diesel would be as well. With no load, 600 miles.
EW: How can the truck maintain optimum battery temperatures?
Milton: The fuel cell takes away the majority of the current from the batteries. Batteries derate due to current rates. So continual use of high current ruins batteries so the software works to protect the batteries. With the Nikola Badger, you don't have that same de rate problem because the fuel cell can output continual power with no de rating since it is a battery. This takes a majority of the stress off the battery cells and allows them to function how they should with short bursts of power.
EW: Will a regular cab be offered as well?
Milton: If you mean two-door, then no. Only 4-door.
EW: Has Nikola secured a partnership with an OEM? If so, which one?
Milton: We will be announcing our OEM partner in the coming months. We wish we could talk more about it but the OEM wants the right to announce it.
Additional details on the Nikola Badger
Will be available in FCEV (Fuel-Cell Electric) or BEV (Battery-Electric)
Electric 0-60 mph in approximately 2.9 seconds
Truck can operate on FCEV / battery-blend or BEV mode at any given time
Badger can generate over 906 horsepower, 980 lb.-ft. torque and an estimated 600-mile range
Badger can drive 300 miles in BEV mode for those that do not have access to hydrogen
Badger will make its first appearance at Nikola World 2020; expected in September
Nikola is currently planning 700 hydrogen stations to give North America hydrogen coverage
Initial hydrogen station locations are finalized and will be announced this quarter
Limited reservations available in 2020. Sign up for updates at nikolamotor.com/badger