The 12-speed Paccar Automated Transmission and its right-hand column-mounted shifter are now standard on linehaul and regional haul applications of Kenworth's T680.
The column-mounted shifter places gear selection and engine brake controls at the driver's fingertips for better ergonomics, comfort and overall performance. This placement also frees up dash space by eliminating engine brake control switches.
Paccar Vice President for Powertrain Landon Sproull has called the transmission a clean sheet design. It was developed over three years in conjunction with Eaton to work with MX engines and Paccar axles and has undergone more than 2 million miles on on-road testing with Paccar fleet partners.
The 12-speed transmission – rated at 1,850 lb. ft. of torque and 110,000 GCVW and featuring standard eight-bolt PTO capability – isn't a manual design with automated components. It is purpose-built as an automated transmission, which is why you won't hear Paccar Powertrain engineers refer to it as an AMT.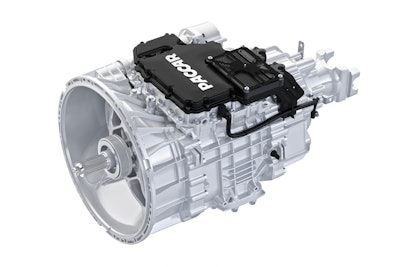 The absence of an oil cooler, its lightweight aluminum construction and a lube system that only needs 16 pints of oil shaves about 200 pounds off the weight of a Fuller Advantage transmission and makes Paccar's entry the lightest automated unit on the market.
The transmission includes a differentiated fluid pressure detection system that protects the gears and shafts from low fluid conditions. A maintenance-free clutch and an internally routed electrical system improve durability.
The unit's 750,000- mile oil change interval is the longest available for line-haul applications.
Kenworth Marketing Director Kurt Swihart says the integration of the proprietary Paccar Transmission with the MX-13 engine and Paccar tandem rear axles provides new levels of fuel economy and weight savings performance.
"In 2017, approximately 70 percent of our linehaul customers purchased automated transmissions, up from about 30 percent in 2013. We've received a very positive response from fleets involved in the Paccar transmission's testing and validation program," he adds.