Emissions, technology and metallurgy have changed nearly every aspect of trucks used in the construction market. Amid such wide-ranging changes, buyers need to become educated about the new features so when spec'ing trucks they take full advantage of the value those features can reap.
Emissions regulations increase demand for gliders, other work-arounds
Each tightening of emissions regulations has resulted in increased cost and complexity of systems required to meet the standards, which has also led to a booming glider market for tractors, says Rick Barry, sales rep at Kenworth Northwest. Gliders are new trucks without engines or transmission. They can be fitted with a powertrain centered around a rebuilt, older engine that faced less-strict emissions standards.
Gliders with older engines mean that customers don't have to contend with diesel particulate filters (DPF), selective catalytic reduction (SCR) and diesel exhaust fluid (DEF). There may also be a higher percentage of residual value if the truck is sold to another customer wanting to avoid perceived issues with modern emissions compliance systems. At least one glider manufacturer, Fitzgerald Glider Kits, touts savings of up to 25 percent compared to a complete new truck.
Kenworth Northwest also offers gliders, and Barry says the cost varies depending on the specs and features a customer wants. Savings compared to a new truck vary, too, and there may be no savings at all.
"But price isn't the main reason customers buy gliders," he says. "They pay what's required to get a truck configured the way they want it." And most want a truck with no DPF/SCR or DEF.
Some may want a Caterpillar engine. But since Cat stopped producing new truck engines after 2009, rebuilts are the only option.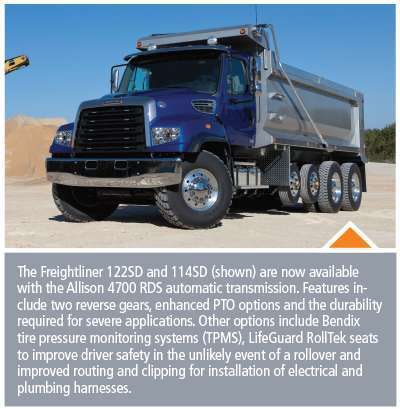 Another consequence of aftertreatment is diminished demand for dual exhausts, say Frank Miller, vice president, and Bill Burns, new truck sales manager, both with Kenworth of Pennyslvania. The driver-side stack on a Kenworth is a dummy, there just for aesthetics.
SCR and DEF have also prompted a move away from PTO-powered accessories, says Andy deLivron, U.S. sales manager for Wilcox Bodies.
"SCR engines don't like to idle, and when they do, it creates carbon and triggers regeneration," deLivron says. "Even if the truck has a controller that brings the engine to high idle during heavy loads, that engine is at low idle between those loads."
This has led the move to multi-function packs with their own diesel power that can be configured to the customer's needs from a list of functions, such as welder, air compressor, generator, battery charger, AC power and hydraulics for a crane. A number of manufacturers provide these multi-function packs, including VMAC, Miller Electric, BOSS and HIPPO Multipower.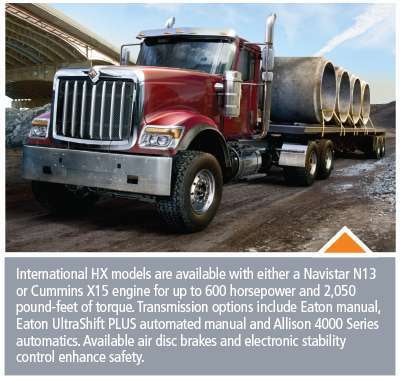 And because SCR canisters and DEF tanks take up frame rail space, Barry notes that vocational body builders continue to seek creative ways to mount tool boxes, fuel tanks and other bulky components that once would have inhabited the frame space now occupied by aftertreatment.
High-tech chassis
The chassis cabs on which bodies are built are also undergoing major changes, with automated transmissions taking over the market. Barry says 65 to 70 percent of his truck orders include some type of automated transmission, and 90 percent of those are Allison, which are full automatics with torque converters.
Automated manual, such as the Volvo I-Shift or Eaton UltraShift, are also used. Barry says that compared to a manual transmission, an automated manual may cost $6,000 to $7,000 more and an automatic around $12,000 more. As for the durability of these transmissions, he says, "We have lowboys pulling 850,000 to 1 million pounds with Allison automatics with no problems."
When citing the advantages of automated transmissions, our sources first mentioned the benefit to less-experienced drivers who would have trouble with a manual transmission. While that's true, improved fuel efficiency and reduced driveline shock are just as important.
Older products make a comeback
Remember super single tires? They enjoyed popularity briefly before issues cropped up to kill the design. They're back, now known as wide-base tires. Some of the earlier problems have been addressed. Self-sealing models reduce the risk of having the one tire on an axle go flat, leaving no limp-home mode as duals offer. More tread patterns and longer tread life are available.
But the fact remains that one wide-base tire is heavier and more difficult to handle than a single tire from a dual setup, and there's still uncertainty about bearing wear on axles retrofitted with wide-base tires, even when mounted on offset wheels. Wide-base tires are gaining acceptance at all wheel positions on line-haul tractor trailers, but construction is slower to return to the design, and some markets, such as forestry and demolition, will likely never be appropriate for wide-base singles.
Likewise, disc brakes, which made a brief foray into commercial trucks in the late 1970s and early 1980s, are also making a comeback. Early designs had lots of problems. Some had high hysteresis, which is the lag between a component's movement and changes in force that create the movement. When brakes were released, the pads were slow to retract; they would apply well but release poorly. Also, pads were attached to the caliper, subjecting the caliper to clamp loads and brake torque. Single-piston calipers did not yield balanced pad wear.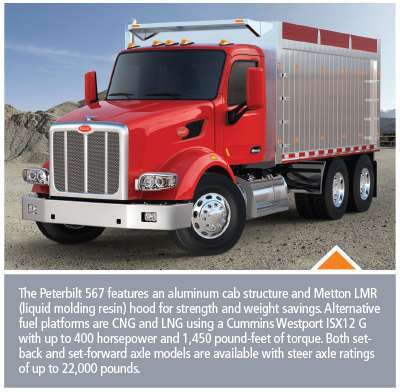 Current designs have none of the issues associated with the early models. Barry says today's air disc brakes (ADBs) stop 40 percent faster, have 40 percent longer service life and have no issues with fade. And swapping brake pads is much faster than changing brake shoes. "It takes less time to change pads than it does to pull the wheel," says Barry.
The surging popularity of discs is due in part to the National Highway Traffic Safety Administration's mandate of a 30 percent reduction in stopping distance for large trucks and the ability of ADBs to meet that mandate. Drum brakes haven't gone away and continue to benefit from advances in design and material, but Barry says once key players adopt ADBs, others will follow. He expects ADBs to be the dominant brake type on vocational trucks within five years.
Adding safety features, reducing size
Miller and Burns say that crash mitigation features are gaining in popularity, such as lane departure warning. Two types of cruise control to avoid crashes are also gaining traction. Predictive cruise uses GPS to anticipate gear and throttle positions, while active cruise with braking enhances safety in traffic.
DeLivron says there's been a size shift in cranes from large and small to medium sized. Of the mechanics trucks produced each year, 8,000 to 9,000 are spec'ed with cranes, so it's a sizeable market.
"Some owner-operators still want the biggest, best and flashiest, but the vocational market in general is moving to medium-sized trucks and cranes," says deLivron.
High-tech electronics move to vocational trucks
When the SAE J1939 was published in April 2000, it ushered in a standardized way for electronic control modules throughout a vehicle to communicate with one another. Every current electronic feature – every work mode, every return-to-dig function – has its roots in the original J1939 protocol. It spread from engines to transmissions to hydraulic systems and has now arrived in full force at the back of vocational trucks. The platform that carries all this electronic chatting is the controller area network, or CAN.
There are two types of functions taking advantage of CAN. There are those that do not have their own electronics, such as outriggers. When outriggers are deployed, signals on the CAN bus lock down other functions so the vehicle can't move. And then there are those that have their own electronics, such as welders and cranes and a host of other equipment. Sharing information over the CAN bus optimizes these functions' safety and performance.
Integrating the back of the truck with the chassis cab's CAN bus has become so essential that truck OEMs are offering their own upfitter interface boxes, a place where upfitters can plug in the tools and accessories they're adding to a truck. On a RAM truck, it's the VSIM, or Vehicle System Interface Module. On Ford, it's the Upfitter Interface Module, or UIM.
Aftermarket suppliers also provide interface modules. For example, InterMotive, Auburn, California, makes modules for multiple markets, and offers more than a dozen products for work trucks. InterMotive offers an upfitter interface module (they say theirs was the first), as well as specialty modules designed to serve specific functions. Their design parameters highlight key considerations for these products.
Wherever possible, upfitters should avoid cutting and splicing wiring. InterMotive modules come with connectors to minimize the need for splices. In some instances, InterMotive has had to 3D print or mold connectors, depending on the volume required. Marc Ellison, director of InterMotive, says connectors are more reliable, speed up installation and make it far easier to decommission a vehicle. "Unplug our 'T' harness connections, plug the OEM connectors back together and you've returned the vehicle to its OEM state," he says.
As with all electronic data systems, CAN has gotten better and faster over the years with more bandwidth. But the demands on the system have grown, as well. There are two ways of gathering information from the CAN bus, active data acquisition (ADA) and passive data acquisition (PDA). ADA is used by many systems; they ping the bus at specific intervals. Greg Schafer, president of InterMotive, says their modules use PDA. "We're like a decoder ring, monitoring information but not adding to bandwidth demands until we need to execute a command, such as shift lock or high idle."
With so many choices for sophisticated control modules on heavy-duty trucks, Ellison offers this tip to help customers get what they need and make the most of it:
"The more technology features that get added to trucks, the more you have to think about how quickly technology changes and what the ROI should be before you outgrow it. Just make sure you are going to get full use and value out of the technology you invest in."
Aluminum invasion
Another change for the vocational market has been the influx of aluminum. Weight savings, which result in greater payload, and corrosion resistance are the key advantages, says deLivron, and "85 percent of what we do is aluminum." He lists multiple other benefits of aluminum:
• It eliminates the need for spray-on liners, which can hold oil, water and chemicals and can trap water between the liner and bed if voids develop.
• It uses up to 90 percent recycled materials.
• It maintains the image of the vehicle longer and lends itself well to second life on another truck when the first one is replaced. Reconditioning and reusing a body can save half the $60,000 to $85,000 cost of a new body.
Wilcox Bodies uses diamond plate aluminum on top of side packs. "It's unsafe to walk on top of side packs, but we know workers do it anyway," says deLivron. "And the diamond plate provides protection as tools and parts are dragged up and over the side." He says they use extruded aluminum instead of diamond plate on floors to reduce the risk of oil canning. (This occurs when a heavy load deflects the floor beyond the metal's ability to rebound, resulting in a low spot that traps fluids and debris.)
But there are trade-offs with aluminum:
• It is not suitable for extreme-duty applications or those with high twisting loads, such as cranes rated over 10,000 pounds. Engineering aluminum structures requires design elements specific to the material. According to deLivron, some body builders use an aluminum skin over a steel structure for crane towers to skirt this issue.
• It is prone to galvanic corrosion where it contacts other metals, and provisions must be made to control this effect. Wilcox Bodies uses stainless steel strap hinges to mount aluminum doors to steel bodies; nylon insulators are used between the hinges and the body structure.
'If they want to know, they know'
With so much to know, how's a truck customer to keep up?
With social media, trade shows, websites and other information-sharing platforms, it's fairly easy for customers, says Barry.
"If they want to know, they know," he says.
Miller and Burns recommend getting a good consultant, someone who understands trucks but also has knowledge of the laws in your operational area. They cite the example of a customer who came to them after buying a truck on the advice of an out-of-state consultant. The truck didn't meet Pennsylvania code.
"It all came down to a two-letter word," says Miller. "If you're going to operate on this class of roads or the interstate." The truck met code for only one of those conditions.
"It wasn't a situation that would prevent him from using the truck," says Burns, "but if he were in a crash, the opposing attorney would leap on the fact that the vehicle didn't comply with state law and use it against him."