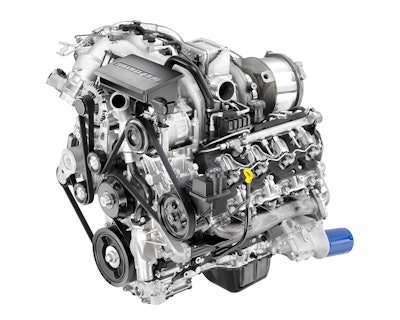 General Motors's all-new Class 4/5 commercial truck—which is being developed jointly with Navistar and set to debut next year—will get a GM Duramax engine under the hood and will be matched with an Allison transmission, the company recently announced.
The Duramax/Allison combo has powered close to 2 million trucks, and GM's Director of Commercial Product and Medium Duty Fleet John Schwegman says the new Chevrolet-branded medium-duty truck be the company's flagship fleet and commercial customers vehicle.
"…We believe the strength of Duramax/Allison powertrain combination will be able to tackle various jobs—from general contracting to urban delivery to bucket loaders and wreckers," Schwegman says.
In the fall of 2015, GM and Navistar announced a partnership that would produce work trucks with a Navistar-designed-and-built body and GM-designed powertrains. Both International and Chevrolet will sell their own branded versions of the trucks, which will be manufactured by Navistar in Springfield, Ohio, beginning in 2018.
Though GM hasn't announced specifications for the Duramax engine that will power these new medium duty trucks, in the early 2000s, Chevy's C4500 and C5500 featured the same Duramax 6.6-liter turbo-diesel offered in the HD Sierras and Silverado pickups. Last fall, the automaker began offering the 2017 Silverado HD and Sierra HD with a new generation of Duramax engine: a 6.6L power plant delivering 445 horsepower and 910 lbs.-ft. of torque.
Technical specifications for the trucks, including cab and frame dimensions, horsepower and torque, GAWR, GVWR, payload and other ratings, will be released close to launch.