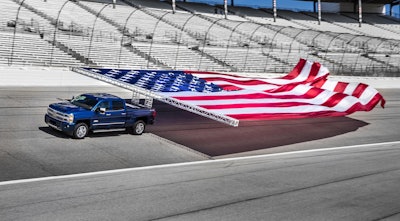 After teasing an engine update with the June unveiling of a new front end design for both the 2017 Chevrolet Silverado HD and GMC Sierra HD featuring a functional hood scoop, General Motors has revealed all the details on a new, more powerful 6.6-liter Duramax V8 diesel.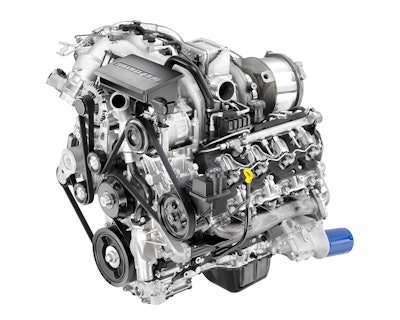 This new Duramax boasts 445 horsepower at 2,850 rpm and 910 lb.-ft. of torque at 1,600 rpm, representing a huge 19-percent increase in torque over the previous generation. Chevy says this brings the most amount of power ever produced by a Chevy vehicle to the 2017 Silverado HD. Of course, the new engine will also be available on 2017 GMC Sierra HD models.
GM says the new 6.6L Duramax is nearly a complete redesign of the engine, sharing only the bore and stroke dimensions of its predecessor. The automaker developed a new control system for the engine and says the engine was redesign was intended to generate more torque at lower rpm in order to give customers "more confidence when trailering or hauling."
And the automaker celebrated all of that new trailering power by breaking a world record by pulling a giant U.S. flag around Texas Motor Speedway. A 2017 Silverado 2500 HD equipped with the new Duramax earned Chevy the Guinness World Records title for the World's Largest Flag Pulled by a Moving Vehicle.
A huge 40-foot by 80-foot flag of Old Glory was pulled around the 1.5-mile oval race track four times without touching the ground. To qualify for the record, the truck had to keep the flag moving off the ground for at least 328 feet.
Forty foot riggings on the truck were designed to fold rearward, enabling the Silverado HDs to quickly enter and exit the track. That design requirement made it impossible to enable a driving roll-out of the massive flags. Instead, a team of 20 people launched and retrieved the flags, ensuring they did not touch the ground.
GM says the hood scoops on the 2017 Silverado HD and Sierra HD provide 60 percent of the cool air pulled into the engine while an air filter housing in front of the fenders provides the remaining 40 percent. Air from the two inputs blends and is funneled into the Duramax engine's combustion chambers. A ram-air effect when the truck is traveling at highway speed packs even more air into the engine.
An air/water separator in the new system ensures only dry air enters the engine.
In addition to the new vehicle air intake system, the new Duramax also features the following improvements:
New, stronger cylinder block and cylinder heads
New, stronger rotating and reciprocating assembly
Increased oil- and coolant-flow capacity
New EGR system with single cooler and integrated bypass
New electrically actuated/electronically controlled turbocharging system
All-new advanced solenoid fuel system
All-new electronic controls
New full-length damped steel oil pan that contributes to quietness
New rocker cover/fuel system acoustical treatments
B20 bio-diesel compatibility