Miller has expanded its EnPak lineup of work truck power systems with a new model that adds welding capability.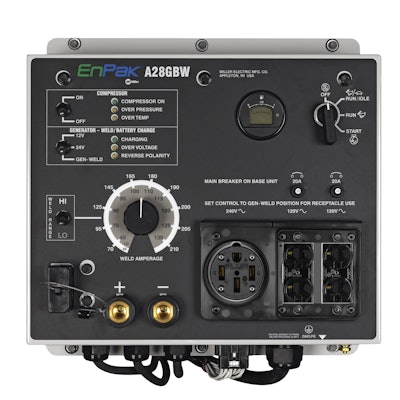 Designed for class 3-5 mobile service trucks and powered by a Kohler gasoline engine, the EnPak A28GBW provides the following:
♦  28 cfm of compressed air for powering "virtually any" jobsite tool
♦  5,500 watts of generator power
♦  100 amps of DC power for 12V/24V battery charging
♦  Up to 300 amps for crank assist
♦  Remote panel controls to save time hopping in and out of the truck cab
Plus, this is the first EnPak model to feature a built-in weld functionality with a 210-amp stick welder.
The big draw to a power system like this is the potential savings fuel savings for field mechanics. Typically, service trucks will run a PTO to power an air compressor or an engine-driven welder/generator. The EnPak A28 allows you to turn the truck off and still carry out just about every task you'd need to do for jobsite repairs.
Miller says the EnPak A28 can cut truck idle time by up to 75 percent. And because the truck is running less, Miller says maintenance costs can be reduced by up to $50,000 over a 10-year period.
Not only that, but because the EnPak system is smaller and lighter than a PTO or engine-driven system, you can save up to 550 pounds in truck weight and up to 24 feet cubic feet in payload space.