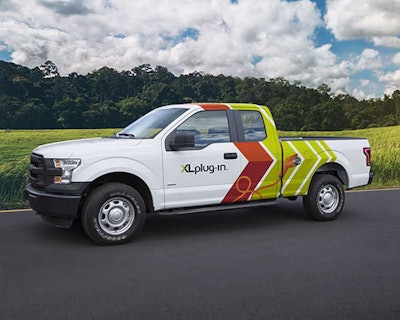 Before the automaker releases a factory-built hybrid F-150, Ford has announced that it is extending its Advanced Fuel Qualfied Vehicle Modifier (eQVM) program to include third-party installation of both electric and hydraulic hybrid powertrains on Ford trucks and vans.
Citing a commitment to "being a leader in electrification," Ford says it wanted to provide commercial and fleet customers a certified option for hybrid conversions to their work trucks and vans now (rather than waiting for the 2020 release of the hybrid F-150) and in a custom format. The new program is called eQVM.
"Ford supports electrification for a variety of vehicle types," Richard Cupka, Ford sustainability and QVM program manager, says in a statement. "The eQVM program extends that support to the vocational truck industry where customers need relatively small numbers of specialized vehicles—there is no one-size-fits-all work truck."
As the legacy QVM certification process did, eQVM requires on-site assessments to verify that a vehicle modifier meets Ford and federal regulatory standards. The program currently includes more than 200 companies.
Ford has launched the eQVM program with three initial developers: XL Hybrids, Motiv Power Systems and Lightning Hybrids. These companies, Ford says, offer hybrid solutions for the F-150, all Super Duty models from the F-250 to the F-550, the F-650 and F-750 medium duty trucks, the Transit and E-Series vans and chassis and the F-53/F-59 stripped chassis.
eQVM launch partner XL Hybrids (XLH) recently announced that its XLP plug-in hybrid unfit will be available for the F-150 beginning in the fourth quarter of this year. In a press release, Clay Siegert, HL Hybrids' co-founder and chief operating officer says the company has already secured order commitments "from our leading major fleet customers."
XLH says this plug-in hybrid system boosts miles driven per gallon by 50 percent while significantly reducing CO2 emissions. The system will be installed on 2017 F-150 pickups in tandem with the 2.7-liter EcoBoost engine and Auto Stop-Start technology. For the 2018 F-150, XLH will make the plug-in system available with the 2.7L EcoBoost and the new 3.3-liter base engine. XLH says the system is compatible with "a range of wheelbases, cab and bed configurations."
The plug-in system installs as a ship-thru upfit and leaves the original engine, fuel system and exhaust system completely intact, XLH says. Customers maintain their complete OEM warranty and get a three-year 75,000-mile warranty from XLH on the plug-in powertrain. The lithium battery pack charges fully overnight.