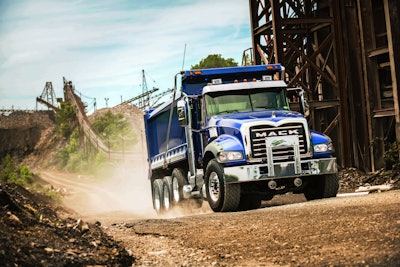 Mack Trucks has consolidated all of its body builder resources to one online location with its Mack Body Builder Portal launched at the ConExpo show in Las Vegas.
The new site is a supplement to the company's Body Builder Support Team, established in 2015, that includes a body builder order manager.
"This is a one-stop shop for any kind of resource a body builder or customer might need," Tim Wrinkle, Mack construction product manager, says of the new portal. "This is an extensive library. We've got wiring schematics, links to industry associations, even things like a PTO pump speed calculator."
Mack has also made available body builder manuals revised with simpler navigations.
"Some of the things that we're able to do include special PTO programs. There are guidelines to help you do that, such as limiting speed when the PTO is in use. Very specific applications, things that you're able to do in dump trucks."
"Mack's strong reputation for application excellence is built on delivering trucks that meet our customers' specific needs, which in many cases includes body modifications from body equipment manufacturers," says Jonathan Randall, senior vice president of sales, Mack Trucks North America. "With the new Mack Body Builder Portal, we're making it even easier for customers and body builders to easily access the information they need to best modify their vehicles."
"Our Body Builder Support Group helps connect customers and body builders to our product experts for any questions that might come up during the upfit process," says Tim Wrinkle, Mack construction product manager. "This cooperation allows us to address customer inquiries before, during and after a vehicle is put into service."