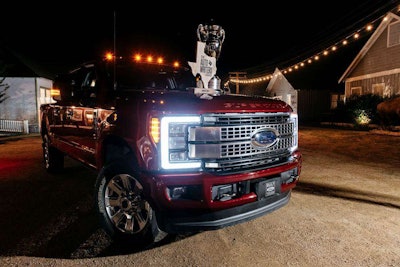 Ford's latest generation Super Duty trucks picked up a major boost of confidence this week as the winner of the Texas Auto Writers Association's (TAWA) "Truck of Texas".
It's the 13th time Ford F-Series pickups have won the award, which TAWA President Nic Phillips said went to the 2017 Super Duty due to the truck's "innovative use of advance materials, as well as improvements in powertrain and features."
Thanks to a new aluminum body, the Ford shaved as much as 350 pounds from the weight of the new Super Duty trucks. That combined with the new 6.7-liter Power Stroke V8 turbo diesel's best-in-class 440 horsepower and monstrous 925 lb.-ft. of torque results in a 32,000-pound towing capacity for the 2017 F-350 and a maximum gooseneck tow rating of 32,500 pounds for the F-450.
The new Super Duty trucks are also outfitted with several new technology features including adaptive steering/cruise control and back-up trailer assist.
Phillips called the 2016 Texas Truck Rodeo was "by far the most competitive in the most categories," noting that 70 journalists put in the equivalent of 15 days of driving time in order to pick the winners.
In addition to the Truck of Texas award, the Super Duty also received the Heavy Duty Pickup award. Ford also received the Truck Line of Texas award for the F-Series and the Best Powertrain award for the new 3.5-liter EcoBoost V6 in the 2017 Ford F-150.
But it wasn't a clean sweep for Ford pickups. Nissan's new Titan pickups followed up their 2015 Truck of Texas win with another impressive showing in 2016. The 2017 Titan XD Single Cab won Best Commercial Vehicle and the 2017 Titan won best full-size pickup.
Ram picked up up a pair of awards as well with the 2017 Ram 1500 being named best Luxury Pickup Truck and the 2017 Ram 2500 Power Wagon taking home best Off-road Pickup. Toyota took home the best Midsize Pickup award which went to the 2017 Toyota Tacoma TRD Pro. And while the 2017 Ridgeline didn't win any awards itself, its in-bed audio system took home the Best Technology award.