After announcing the project last month, General Motors and the U.S. Army have taken the wraps off of their heavily modified, hydrogen fuel-cell-powered Chevrolet Colorado.
Calling it the "most extreme off-road-capable fuel-cell-powered electric vehicle" GM has ever produced, the Colorado ZH2 was unveiled at the fall meeting of the Association of the United States Army (AUSA). The truck was developed from contract to concept in less than a year through a collaboration between GM engineers and the U.S. Army Tank Automotive Research, Development and Engineering Center (TARDEC).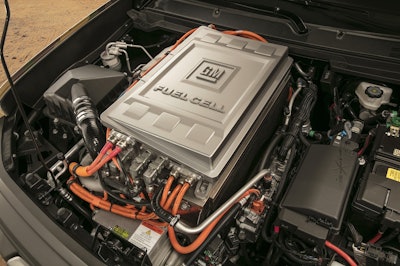 Featuring a striking paint scheme that fades from camouflage on the front end into a sharp sand-like shade on the rear, the ZH2 is built atop a stretched Colorado chassis. It sits on 37-inch tires and a specially modified suspension that enables it to traverse "all manner of terrain," GM says.
Under the truck's hood is a hydrogen fuel cell system that has accumulated 3.1 million miles of real-world driving by civilian and military drivers.
The truck features an Exportable Power Take-Off (EPTO) unit that allows its hydrogen fuel cell to power activity away from the truck, such as in remote locations where electricity isn't available.
Beginning in 2017, the Army will test the Colorado ZH2 in order to evaluate the advantages of a fuel-cell-powered truck including the EPTO's remote power capabilities and the following:
• Since a fuel cell's by-product is water, the Army will test the truck's usefulness as a water source in the field.
• Near-silent operation enabling silent watch capability
• High wheel torque at all speeds via electric drive
• Low fuel consumption across operating range