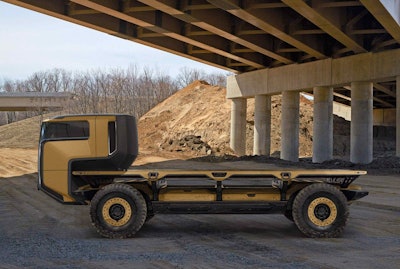 One year after debuting the Chevrolet Colorado ZH2, a hydrogen fuel-cell-powered pickup designed in collaboration with the U.S. Army Tank Automotive Research, Development and Engineering Center, General Motors has unveiled a new platform that the automaker hopes will translate what has been learned from the ZH2 into larger commercial and military trucks.
Dubbed the Silent Utility Rover Universal Superstructure (SURUS), this fuel cell platform doesn't just generate electric power: it also supports autonomous operation. GM says the chassis is designed to produce instant torque, traverse off-road terrain and to "minimize logistical burdens and reduce human exposure to harm." The platform is being designed as a single-chassis solution that can be outfitted with or without a truck body for a number of applications.
The SURUS platform features a high-voltage lithium-ion battery system, two electric drive units, four-wheel steering and a hydrogen storage system capable of more than 400 miles of range.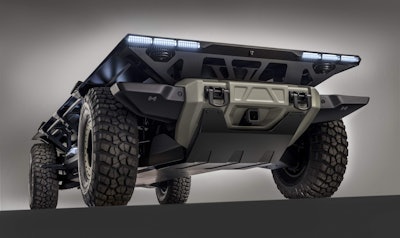 GM says it hopes SURUS will form the foundation for a whole family of primarily commercial vehicles with the SURUS chassis at the heart. However, GM says the SURUS could be equally well-suited for military applications. GM is evaluating the SURUS for use as utility, light- and medium duty trucks. The platform could also be used for mobile and emergency backup power generation, commercial freight and cargo delivery.
Since April the Colorado ZH2 has been in testing on stateside U.S. Army bases in order to "determine the viability of hydrogen-powered vehicles" in military operations. GM is calling fuel cell technology "a key piece" of its zero emissions strategy saying the technology has shown itself capable of scaling to larger vehicles that need to operate over longer distances with large payloads.
Beyond cool features like emitting potable water as a byproduct of the process of turning hydrogen into power, the Army has found that the ZH2 reduces acoustic non-detection distance by 90 percent when compared to current military vehicles in operation. In other words, the ZH2 is able to get troops 10 times closer to an area before being detected by the enemy.
The Army's ZH2 testing will continue through next year.