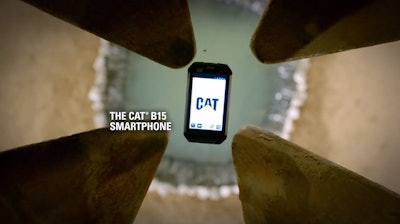 Caterpillar today released the second in its series of Built For It videos which submit Cat machines to the ultimate tests.
Titled "Gravity," the latest video focuses on the extreme durability of Caterpillar's B15 Android smartphone. Released last year to a lot of positive reviews, the B15 is Cat's first smartphone and is military spec with an IP67 rating. The device is waterproof, dustproof and will survive a 5.9-foot drop to hard concrete. The device can also operate in temperatures ranging from 122F to -4F.
But Cat wanted to put those impressive specs to the test, and boy did they ever.
First, the phone is dropped 35 feet into a deep pool of water. And if that wasn't enough, Cat then stacked 600 B15s in two rows and drove over them with the 4.6-ton 277D multi-terrain loader.
Can the B15 possibly survive? Watch the video below.
[youtube mVPku-xItv8 nolink]