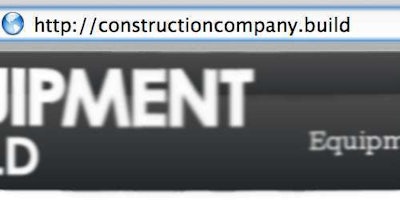 Bringing in what the domain calls "the new Internet for the building industry," .Build domain names are available for purchase to U.S. contractors and construction firms beginning today.
Announced during the ConExpo-Con/Agg show in March, the new top-level domain (TLD) name would replace ".com" or ".net" in a company's web address.
Associated General Contractors of America said back in March that the .build domain will make it easier for more people to find construction companies on the Web through search engines like Google and Bing.
The domain is a fresh start in way due to the fact that there are so many websites today already registered with a .com domain. The .build domain makes it easier for firms to reserve the Web address they want rather than having to make revisions when their desired address has already been claimed.
George Minardos, CEO of the .Build group said in a prepared statement that many companies have already registered their website with the domain.
"I've spent my whole career in the construction business, so I wanted to make sure that the industry was well represented as the Internet expands and as technology plays an increasingly crucual role in the building industry," Minardos said. "In lieu of a .com name that has no meaning, a .Build name clearly states who you are, what you do and improves your ability to be found on the Internet by companies and individuals looking for your products and services."
The domain is $99 per year, can be transferred from a .com address and provides design templates to update the look of a site. The .Build group is accepting registrations at their website.