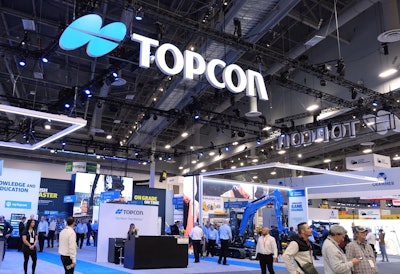 Equipment World
Topcon Positioning Systems announced the addition of a new global navigation satellite system (GNSS) option for its MC-Mobile compact machine control solution at ConExpo-Con/Agg 2023.
The MC-Mobile system, which was teased at ConExpo 2020, allows users to design, build and check their work from one portable system. Now, this GNSS option allows contractors to integrate their compact machines into fleets already powered by GNSS technology, Topcon says, giving owners of skid steers, compact track loaders and mini excavators a broad offering of machine control options.
MC-Mobile is based on Topcon's MC-X platform, an easy-to-use and affordable machine control solution for mixed fleets of both full-size and compact earthmoving, asphalt and concrete paving equipment. The MC-Mobile product line offers 2D and 3D solutions geared toward entry-level users completing short, day- to day-and-a-half-long jobs.
The MC-X architecture combines multiple communication technologies, including the Sitelink3D connectivity platform and numerous elevation sensors, IMUs and GNSS receivers, to customize solutions to a contractor's workflow. Once plugged into the machine, the system can sense what piece of equipment it is in and make the necessary setting changes without requiring hardware upgrades.
"We initially built MC-Mobile with the smaller or mid-size contractor in mind," said Murray Lodge, executive vice president and general manager, Topcon. "Working with a prism pole and our 3D robotic instrument, the LN-150, users easily measure, design and build right on-site, all with one 3-in-1 solution — expanding their capabilities and growing their business. Now, this new GNSS option allows fleet managers to easily integrate compact machines into much larger, more complex workflows, with the same machine-to-machine modularity and ease-of-use that has made MC-Mobile one of our most talked-about products of the last year. Both the local positioning system (LPS) and GNSS versions are made possible thanks to the MC-X platform."
Topcon says the platform is "designed to be as flexible as it is powerful, adapting across applications and machine types, improving performance and speed for operators of all skill levels."