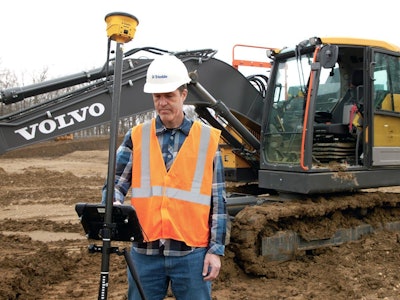 Trimble
Build jobs and check grades with the same system module. Easily move that module between excavators and jobsites. And do it all by building upon hardware and software that you may already own.
Trimble has expanded its Siteworks Software, adding an on-machine Siteworks Machine Guidance Module, which gives users excavator guidance and operator assistance in addition to its surveying and layout abilities.
By adding the new software module, contractors can use the same Site Positioning Systems hardware and software to do a variety of tasks, including machine guidance, surveying, in-field design and reporting.
The module, introduced at ConExpo/Con-Agg 2023, will be available in the second quarter of this year.
Users can easily remove and install the system between excavators and jobsites, a feature designed for smaller contractors. Trimble calls the Siteworks Machine Guidance Module "an accessible and entry-level combination machine guidance and construction surveying solution."
"Our goal is to give users all of the benefits of Trimble Siteworks at the tip of the bucket, essentially turning the machine into a surveyor," says Kevin Garcia, general manager, Trimble Civil Specialty Solutions. "Contractors can get more done with less training and time and utilize their personnel for other tasks, while also moving workers out of trenches and away from equipment operating on the jobsite."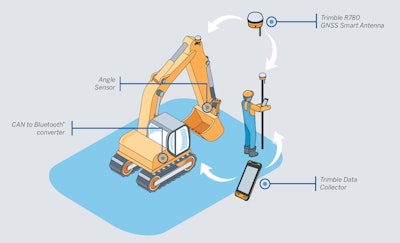 The Siteworks Machine Guidance Module comes with either the Trimble SPS986 or R780 GNSS Smart Antenna with tilt compensation, Trimble's ProPoint positioning engine, and machine kit. You can use it with a Trimble field tablet or any bring-your-own-device.
You can take the module off the machine to design, measure and lay out projects. The GNSS receiver and field tablet can then be transferred from the pole to the machine to provide in-cab 3D machine guidance and grade checking capabilities.
By using the Trimble CenterPoint RTX corrections service, the company says, "contractors can experience true mobility working without the constraints of a local base station or VRS network," using satellite or cellular/IP.
The module's capabilities don't end at the jobsite. Users can share information with the office, and with the addition of Trimble's WorksManager Software, they can share designs between locations and access remote support.