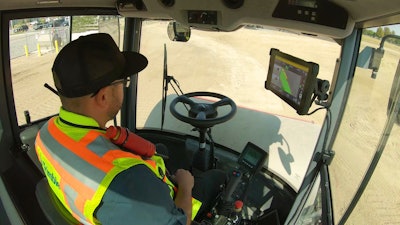 Trimble
Trimble will demonstrate its ongoing effort to drive technological change to optimize the construction project workflow at ConExpo-Con/Agg 2023.
Product experts will provide technology demonstrations, answer questions and discuss technology solutions designed to streamline communication and collaboration throughout the construction lifecycle.
A variety of solutions connecting machines, people and projects to deliver real-time data to owners, engineering firms and civil contractors will be on display in West Hall at booth W41522.
You can see more of what OEMs have in store for ConExpo 2023 on our show preview page by clicking here.
Among the highlights of the booth will be a new purpose-built machine guidance solution designed to be versatile, portable and easy to use. The new solution gives small site and utility contractors an entry point into construction technology that has not existed until now.
The Trimble Earthworks Machine Control platform, and specifically the Trimble Earthworks for Soil Compactors – Horizontal Steering Control technology, is the next step toward Trimble's autonomous vision. Horizontal Steering Control helps operators achieve higher-quality surfaces and consistent compaction. Compatibility with all soil compactors makes and models enable contractors with mixed fleets to achieve a faster return on investment, the company says.
In addition, Trimble will share the results of a recent study that sets a standard for a reduction in greenhouse gas emissions through semi-autonomous compaction operations.
Trimble has also been active on the acquisition and partnership front. Recent acquisitions, including construction financial management software provider Viewpoint and project management software provider B2W, will be part of the overall Trimble ERP, estimating and project management solution demonstration.
Live demos of the Boston Dynamics robot dog Spot equipped with Trimble X7 laser scanner will illustrate the company's robotic solutions. The system is an autonomous laser scanner for progress tracking, developed by integrating hardware and software.
In addition to the company's booth, ConExpo attendees can also hear from Trimble experts in the following education sessions:
Sustainability 101 – Wednesday, March 15, from 9:30-10:15 a.m. with Dietmar Grimm, vice president of corporate strategy and sustainability solutions at Trimble
Asphalt Paving Technologies Moving Operations into the Future – Wednesday, March 15, from 1-2 p.m. with Kevin Garcia, general manager of civil specialty solutions at Trimble
Alleviating Worker Shortage with Task Automation – Thursday, March 16, from 1-2 p.m. with Cameron Clark, earthmoving industry director for Trimble civil infrastructure solutions
Operationalizing Robotics and Autonomous Equipment – Friday, March 17 from 9:30-10:15 a.m. with David Burczyk, construction robotics lead at Trimble