Branch Civil
"First things first," advise contractors who've managed to tame the telematics data coming off their machines and on-road equipment.
"The first question you need to ask is what do you want from this data and how is it going to make your operation better," says Chris Caldwell, equipment superintendent with Roanoke, Virginia-based Branch Civil, which currently has a $70 million fleet, including around 100 pieces of heavy equipment.
Josh Munna, who manages Barriere Construction's Resource Optimization Center agrees. "You need to understand what you're looking for," he says. The Metairie, Louisiana-based company has around 200 pieces of off-road equipment and 40 pieces of on-road equipment.
Focus is key, adds Kevin Reimert, fleet coordinator with Schlouch Construction out of Blandon, Pennsylvania. "There are so many data points that you can easily get distracted and go down a rabbit hole that doesn't have any value," he says.
These three contractors talked freely during a "Live Tech Talk" last week about what incorporating telematics data into their daily decision making has meant to their operations. (For the full video talk, go here.) The talk was sponsored by the ConExpo-Con/Agg trade show and Caterpillar.
Starting points
"Ten years ago, we were basically chasing failures," Munna says. "We found that after a certain point, it's more efficient to purchase a new piece of equipment, so we now tend to keep equipment less than 5,000 hours, which helps us to be less reactive."
"In 2005, we were 100% fix-when-fail," says Don Swasing, chief operating officer at Schlouch, which manages about 150 construction machines and 150 pieces of on-road equipment. "Our vision then became condition-based maintenance. We started talking about what we could control and what really mattered."
The Branch Civil team created a plan that outlined to company executives how incorporating telematics would make operations better, Caldwell says.
Fuel costs No. 1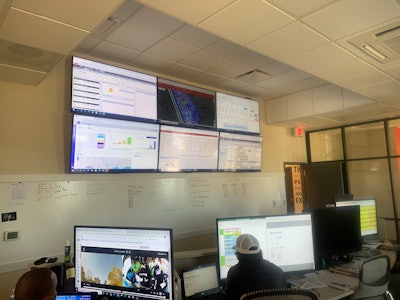 "Fuel is our No. 1 operating expense, and if you're not focusing on fuel, you should be," Reimert says. "Telematics gave us visibility as to what needed fuel and what didn't need fuel."
For example, a common but inefficient practice is to send a fuel truck to every job every day and fuel machines as needed. Using telematics data enabled Schlouch Construction to take a deep dive into fuel burn percentages and eventually schedule its fuel trucks based off machine fuel levels. This allowed the firm to better manage its routes and improve fuel delivery efficiencies.
Schlouch then examined equipment utilization. "We looked at the metrics, the key performance indicators that could drive utilization into a better place than we had with a manual process," Reimert says.
Fuel burn and equipment utilization were also two key data pieces that Barriere Construction first wanted to control, Munna says. From then, there's been a progression of information. The company coordinates its data through several suppliers, including Cat's VisionLink (for construction machines), FleetWatcher (trucking cycle times), Samsara (service trucks) and B2W (production, PMs).
"We're still finding out things today, and we're 10-plus years into this," Munna says. "You really have to know what you're going for and what will satisfy your needs."
"All of this information is designed to compel us to act," adds Don Swasing, chief operating officer, Schlouch.
Eliminating costs
All three contractors can pinpoint cost savings as a direct result of incorporating telematics.
Branch Civil used its utilization reports to change its business operations. "When a machine's utilization is low, we can move it somewhere and avoid rental," Caldwell says.
The company also looks at fuel burn to help determine how many equipment maintenance workers will be needed on a job. It also gives Branch Civil more visibility into reported hours versus machine hours and increases billing accuracy.
Barriere uses its machine data to determine where older machines are in their life cycle and whether they need to be disposed of, Munna says.
Tracking this data also helps operations understand how much idling costs, Munna says, including the added DEF expense with Tier 4 equipment.
Today
Barriere's different data feeds from its telematics, tracking systems and software are put on six large screens in Barriere's ROC, says Lucien Wicker, the company's equipment coordinator. Also on screen: the weather.
"We combined the equipment and logistics department and put all in one area so we can share resources throughout the company," Munna says. "It cuts down on the phone calls and emails."
"We have GPS on probably 85% of our third-party trucks, so we're able to see where those trucks are minute by minute, including the low-boys on the paving side," Munna adds.
Branch Civil calls its equipment operations center "SAR," which stands for situational awareness room. It uses Teletrac Navman to bring its machine telematics into one portal. Its on-road fleet is managed on another screen. "It's centralized information with a decentralized command," Caldwell says.
All machine fault codes are populated automatically in Branch Civil's SAR, says Natalie Kerschner, operations analyst. In the SAR, "you can see everything that's going on with the equipment, what the needs are, and then it can be assigned from there."
Branch Civil has also worked hard to automate its PMs, Kerschner says. "The work orders are automatically generated whenever a service is coming due and assigned to a mechanic."
These work orders are color-coded, separated by regular PMs, damaged units, emergency shutdowns, etc. "We can look for trends to see if a machine has had a lot of emergency breakdowns and drill deeper into the information," she says. "It really has helped us keep a better eye on our fleet."
"All of our data flow comes to one person," says Reimert. This includes the company's telematics providers such as Cat's VisionLink and Komatsu's Komtrax. Schlouch's logistics department also handles data coming in from its on-road fleet.
Real costs
"Once you get the buy-in from operations, it's going to make everything on the equipment logistics side so much easier," Munna says. "Then they really are able to understand the cost effects and what it could do to the equipment."
And when utilization rates show that not all the equipment assigned to a jobsite is used, it can really cut costs and prevent equipment hoarding, Munna adds. "That's helped us get more aggressive on our bids."
Barriere has a weekly meeting where operations reviews utilization reports. The hour readings reported by machine telematics are compared with the hours each foreman reports. "We want to make sure they understand what happens when you're not properly claiming the equipment," Munna says.
The costs involved can be significant. "In the first year we implemented our telematics, we reduced our rental spend by about 50%," says Caldwell, of Branch Civil. "We almost paid for our entire telematics through our efficiency."
In fact, just the PM scheduling alone has helped Branch Civil drive its equipment rates down. "In turn, that makes us better on bid day," Caldwell says.
Swasing, of Schlouch, agrees. "It made it a little easier for us to come together and have conversations about utilization, how to lower cost rates and how to extend the life of the equipment," he says. "It ultimately affects our cost rates, and the cost rates ultimately affect our ability to win business."
Schlouch reduced its idle time 10% to 15% across its fleet after coaching its operators, Reimert says. "The foreman can communicate with his crew and tell them, 'Every hour you idle this machine, it's costing this amount of money.'"
"You really have to start at the why and stick to that why throughout the coaching process," says Kerschner, who also tries to share dollar amounts and what the company is able to save through such things as an anti-idling policy. "We tell them, 'Here are all the reasons and here's your part of that,'" she says.
In addition, Schlouch has saved significant money with its hauling operations, Swasing adds. "Our estimators have really latched on to that and are incorporating it into their bids."
How to start
For those just starting out and looking for basic information such as machine location and hours, "you can probably go with a generic third-party application," says Reimert.
But those wanting a deep dive to improve operational efficiencies will need to use OEM telematics "and get that specific fault code information and fuel data."
Ongoing challenges
These telematics veterans have a clear view of what still presents problems.
"I think there's a gap at the dealership with a working understanding of the product," Reimert says. "They're sending somebody out who's not really understanding what a fleet manager's responsibilities are and what we are trying to accomplish, and it makes it that much more difficult to get a result."
Munna also points out there can be some hour meter discrepancies between machine telematics and maintenance software. "We have an automated PM system that is our trigger, and when a meter is off, it may be generating a PM faster or slower than we like and that's going to cause other failures."
Increasing the number of mixed-fleet data points that are included in the Association of Equipment Management Professional's Telematics Standard would also be helpful, Caldwell says. (This creates a common data format that enables viewing mixed fleet data on a single site.) "It would be more easily accessed in one place," he says.