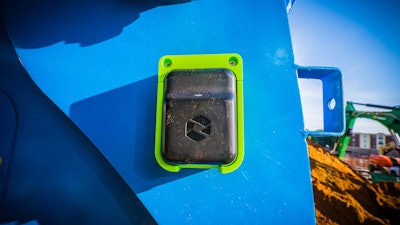 Triax Technologies
To get a broad-based look at all their company assets, contractors are turning to systems that track equipment location, hours, idle time and much more across the entirety of their fleets.
These systems make use of tracker systems – basically little black boxes – to keep track of and manage not only your mobile fleet but everything else on your equipment list, including attachments, tools and trailers. Trackers can also be applied across your fleet regardless of brand.
Data emitting from each tracker can then be merged with information coming off the machine's telematics and from other tracker-equipped machines and equipment to give you a more in-depth view of what's happening with your fleet.
In short, it beats trying keep up with your fleet, attachments, tools and other accessories in an Excel spreadsheet.
Simple to complex
Tracker-equipped systems range in the complexity of information provided and the asset they are designed to track.
Some offer basic location, geofences and theft deterrent for non-motorized equipment. Others can be integrated with a machine's telematics and a fleet management system to offer a more universal view of what's happening with a company's fleet.
These tracking systems are attached to an asset in a variety of ways: magnet, screws, tape, wired in or even welded on. They can run off the battery of a host machine, off their own internal batteries or can be solar-powered. And they can be placed in a variety of locations, depending on the asset and its use.
(And while we recognize that trucks are an important part of a contractor's fleet, we will cover truck-specific tracker-equipped systems at another point.)
"Our trackers are built to withstand rough construction environments and leverage technologies from cellular/GPS to Bluetooth Low Energy (BLE) and QR depending on the asset type," says Austin Conti, CEO and co-founder, Tenna. "Our platform pulls all the information from these various devices into a dashboard where, among other things, you can see equipment location, know when it needs maintenance and how it's being utilized."
EquipmentShare's fleet management system uses a combination of trackers and harnesses that it developed to capture data every nine seconds from machine telematics, pulling it into the company's fleet management app, says Angela Paige, EquipmentShare's product manager for the fleet application. "This shows you all of your assets, where they are located and how much they're being utilized," she says.
Tenna's new TennaBLE Beacon Steel Puck is an example of a tracker for non-motorized assets. The puck is specifically designed for construction's heavy use and abuse situations, and it can be placed on buckets and blades. (You can get more information on it and other tracker-equipped offerings in the roundup at the end of this article).
Location, utilization and maintenance
"The three big use cases for tracking equipment have to do with location, utilization and maintenance," says Ian Ouellette, vice president of product for Triax Technologies, which offers the Spot-r line of trackers. "Just identifying where your equipment is is important."
"Trackers help with visibility," says Moran Minster, marketing manager, Wireless Links, which offers Piccolo brand trackers. "When you have multiple machines run by multiple employees, it's hard to keep track of everything."
Using equipment tracking sensors in addition to machine telematics can offer benefits, Ouellette says. For example, because Triax's Spor-r EquipTag operates off a proprietary network, it can be used inside a building, a challenge for satellite-based GPS telematics systems, he says.
Pricing on these systems will naturally be dependent on application and scope. Typically, there's the cost of the trackers, an installation fee and a per-tracker monthly subscription fee that includes maintenance and network services. The scale of the installation will be a determining factor in the subscription fee. Many companies offer financing terms.
Ouellette says these tracking sensors are positioned so contractors can take a crawl-walk-run approach to their adoption. "Start today and evolve as you go forward," he advises.
TRACKING SYSTEMS ROUNDUP
The following is an overview of some of the products currently on the market, including QR-based systems for tool tracking. We will update this as information comes in and new products are introduced.
Spot-r EquipTag
Triax Technologies' Spot-r EquipTag uses the company's proprietary network to track, log and report operational and performance data from your machines. Data from machines can be accessed via the Spot-r dashboard from any device to tell you where your equipment is located. Combined with data from the Triax's Spot-r Clip wearable, you can also know who is operating it and if they are certified to do so. This data tells you how much and how often each machine is being used on a jobsite, helping you right-size your equipment fleet.
The non-GPS system allows machine monitoring whether its indoors, outdoors or in dense areas without a clear line of sight to the sky. Triax says this capability allows the system to overcome the traditional limitations of machine telematics.
EquipmentShare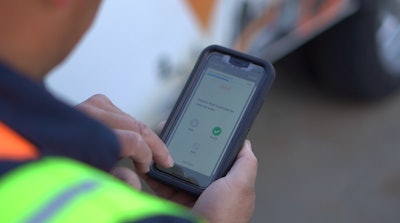 EquipmentShare's fleet management system, which uses a proprietary tracking device and harness, connects to the company's cloud-based fleet management software to provide several data points, including equipment utilization rates, rental equipment data, maintenance history, machine GPS location and operator use.
The platform connects all machines and vehicles with cloud technology — regardless of make or model — to give contractors real-time access to their entire mixed fleet operations. Users can access fleet data from a mobile device or desktop. The hardware can be installed on any machine, vehicle or piece of heavy equipment, regardless of OEM/brand, class or category, EquipmentShare says.
Using GPS tracking, EquipmentShare's fleet management technology helps users understand where equipment is at any given moment. Tracking hardware communicates to the fleet management technology platform to inform and alert fleet managers and contractors of stolen equipment's location, and users can track a stolen machine's GPS coordinates on a map.
Wireless Links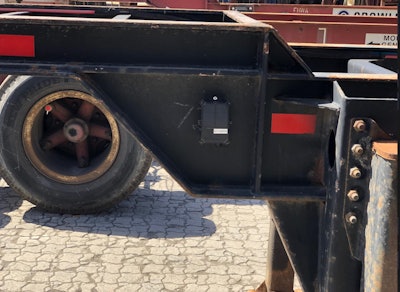 Wireless Links offers a range of tracking solutions for heavy, compact and light equipment attachments, tools and trailers. The company's offering includes the Piccolo ATX for unpowered assets, Piccolo ATX2s for unpowered assets with solar panels and the Piccolo Hybrid for powered assets.
Wireless Links says one cost-effective solution is its solar-powered RFID tag. It can be used with a Piccolo IoT telematics unit installed in a cab or RFID tags mounted on trailers and other assets. The solar recharge capability eliminates labor intensive and time-consuming manual battery charging, Wireless Tech says.
Wireless Links uses its Fleet.Net cloud platform with its GPS trackers; each tracker can integrate with other applications and enterprise systems.
Teletrac Navman Site360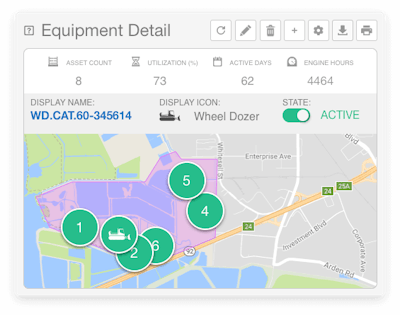 Site 360 enables you to see all your tools, machines and other assets on one system. That includes leased or rented assets.
It provides real-time information on the assets' location, assignment and usage, sending an alert when the equipment is moved outside of set geographic locations or outside of planned work hours. The tracking system works on all types of equipment and vehicles, from heavy to light.
It provides GPS tracking, engine hours monitoring, idle time management and fuel use measurement in real time. The system's app is available for iOS and Android systems, enabling drivers, dispatchers and management to access the system from anywhere. The company also recently launched the ST101 Solar Tracker for GPS tracking of non-powered assets.
Geotab GO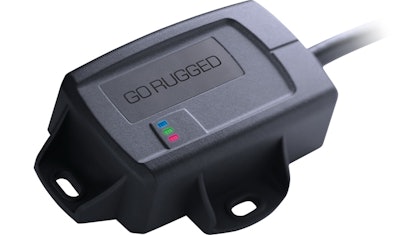 Track fuel usage and idling trends on your heavy equipment and powered trailers and assets with the IP67 rated Go Rugged ruggedized telematics device. Designed for harsh conditions or external installation Geotab helps you track and maintain your assets and provides key data insights, including monitoring engine hours and PTO usage using GPS technology. Geotab provides advanced dashboard reports and has an open platform for easy data integration.
DPL Telematics AssetCommand Max
DPL Telematic says its cellular GPS AssetCommand Max tracking system wirelessly monitors and remotely tracks off-road equipment and over-the-road trucks. The rugged device tracks runtime, trips, geofences, curfews, rollover and service schedules and allows managers to remotely disable their assets.
The AssetCommand Max features a remote starter disable/enable, addressing safety, theft or nonpayment concerns. It sends real-time notifications of tilt and rollover detections, alerting owners about possible safety or machine abuse issues. Owners/managers also get alerts if a unit is disconnected.
TennaBLE Beacon Steel Puck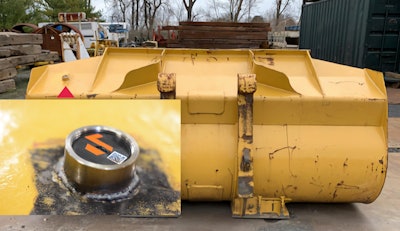 Tenna's TennaBLE Beacon Steel Puck tracking device is designed for attachments that get aggressive, high-impact use. It can also be used to locate other machine parts such as crane boom sections.
The puck is an offshoot of Tenna's current Bluetooth Low Energy (BLE) asset tracker. It features an IP67 watertight glass-filled nylon inner casing to protect against dust, sand and water, and an aluminum-killed steel outer fitting for impact resistance. A welded fitting on the puck gives it a permanent mounting that will resist extreme forces, Tenna says.
The puck tracker sends out regular "heartbeats" every three seconds that are recognized by Tenna's mobile asset tracking app. When in range, the app automatically identifies and records the location of tagged assets and stores the data.
Geoforce GPS tracking devices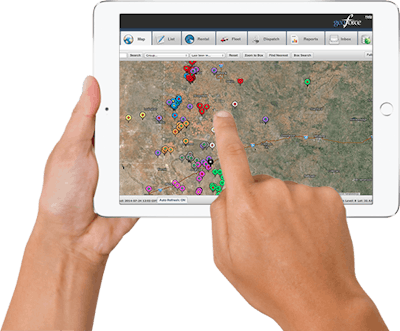 Geoforce offers a variety of heavy-duty GPS tracking devices for construction equipment and vehicles. It shows asset inventory on a digital map using GIS data to locate an asset and tell you how many days it has been there.
It also provides periodic utilization and telemetry reports on the equipment's location and usage, as well as manages equipment maintenance and tracks engine hours. The company's service verification module can confirm a received or submitted invoice is complete and correct. The company says its GPS tracking devices can be used with most construction equipment and are built to withstand remote, unpredictable and rough conditions.
Caterpillar PL161 attachment locator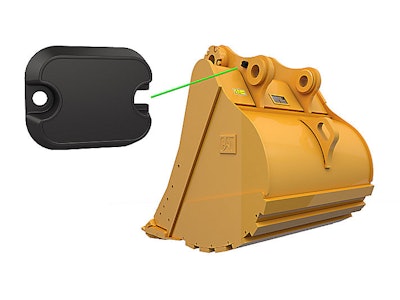 This locator allows contractors and fleet managers to keep up with their buckets, grapples and other attachments online and through their smartphones and tablets. It can track location and utilization across multiple jobsites as well as help you plan for attachment maintenance and replacement.
The lightweight 2-inch by 1.5-inch Bluetooth locator device can be fastened to an attachment or other nonpowered asset and is used with the Cat App, which can be downloaded at the App Store or Google Play Store.
The device comes with mounting hardware of two bolts, two washers and a steel weld plate, and with safety films. The module can also be mounted with adhesive. Cat says the locator module is designed to withstand the harsh conditions of a construction site.
Trackunit Kin
Used with the Trackunit Go mobile app, the Kin's 2.12- by 1.4-inch devices attach to attachments, tools and accessories. The Kin is designed to connect to the Trackunit RAW (TU600) installed network of devices.
Kin devices exceed industrial design standards PP66K and IP69K and have ultraviolet-resistant and flame-retardant housing, according to the company. The system uses Bluetooth 5.2 and provides up to 430 yards of line-of-sight detection. The tracking devices are powered by a lithium-ion cell that provides up to five years of life in normal operating conditions, the company says.
The mobile app user can also locate devices by visible LED pulses. Low-powered embedded sensors provide movement, vibration and activity detection.
Milwaukee Tool Asset ID Tags
An expansion of the company's One Key asset-management and tracking platform, Milwaukee Tool's Asset ID tags track your smaller tools without Bluetooth.
Users simply scan the tags with any camera-equipped mobile device to record time and location information. The company says this provides instant documentation as the tool is transferred from jobsite to jobsite.
Milwaukee Tool offers the Tick Bluetooth tracker for larger equipment. The Asset ID Tags come in two sizes: .69- by 1-inch and 1.5- by 2-inch. They come in sets of 200 and have versions for attaching to plastic and metal surfaces. They are resistant to water and chemical exposure, have UV protection, are scratch resistant and will maintain their adhesion during significant temperature changes.
Hilti OnTrack
The Hilti system uses tags and a mobile app for tracking tools and other assets from any web-enabled deice. The company also recently updated its software with a 3.0 version that provides more data about your tools and accessories.
Hilti offers a variety of tags for tracking equipment, including adhesive smart tags and Bluetooth tags, and those made of aluminum or stainless steel for more durable attachment.
The new 3.0 system provides information on how, where and when each asset is used. It also enables remote inventory checks. Hilti says this allows contractors to better manage job costs. They can set up a daily cost per asset for running cost reports for any date range to determine an assets costs at any location. The system also enables setting alerts for service, certification and maintenance schedules.
Bosch Bluehound
This tracking system can be used with any brand of power tool or equipment. Its Bluetooth Profession GCC 30-4 TrackTags are compatible with different manufacturers and have a signal radius of up to 100 feet, depending on smartphone model and level of interference from other devices, the company says.
Using the Bluehound Mobile app, users can receive location and other asset information to their mobile device. Tools, job boxes, vehicles and other assets can be managed by showing when they were last seen and which employee was responsible for them.
The system also has an "automatic driver reminder" to remind you of any tools left behind on a job. By pressing a button, your company's users on the system can be alerted to missing tools or those in need of repair, and you can build invoice reports and keep up with scheduled maintenance.
Don McLoud contributed to this report.