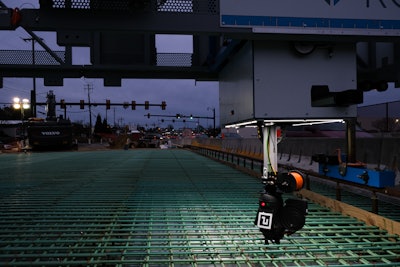 Advanced Construction Robotics
Making its U.S. debut at the 2020 World of Concrete show, TyBot has had a busy year working on bridge projects throughout the U.S. The concrete rebar tying robot just tied its 2 millionth job tie.
"We're not a prototype or a science experiment or a university study," says Jeremy Searock, co-founder and president of TyBot's maker, Advanced Construction Robots. "TyBot is a product that's doing real work."
What is it?
But before we go into what TyBot does, let's first look at what it is. TyBot is an autonomous robotic rebar-tying system, the first in ACR's envisioned line of autonomous robotic equipment.
Once TyBot is set up on a jobsite, a technician gives it a few inputs through a small remote-control panel, and then it goes to work, completely autonomously, using robotics and artificial intelligence.
Using computer vision, TyBot independently navigates bridge decks, identifies and ties rebar intersections, then moves on to the next intersection, working at a pace of about 1,000 ties per hour. ACR compares that to the average 150-250 ties per hour one worker can produce – a hard, backbreaking task.
TyBot is not remote controlled, although a bellybox console is used to communicate with and monitor TyBot. There is no pre-programming and no running off design files. TyBot sees each rebar mat intersection to be tied, according to Searock, and starts tying. "Off it goes," he says.
On the job
For TyBot to make economic sense on a bridge or road project, there needs to be scale. "Once you get to 20,000 square feet, it's a pretty straightforward savings for the contractor," Searock says.
TyBot typically fits on a 40-foot trailer and can be pulled by an F250-sized pickup. On larger jobs that require more cross sections, additional transportation will be needed.
Once at the jobsite, the TyBot is placed by a lift or crane. Searock compares the setup to that of a concrete finishing machine, "only it's easier," he says. No tools are required, and depending on the scope – the rail distance can be expanded continuously from 9 to 100 feet – it can be done in one to four hours. It uses already-assembled onsite screed rails as its track.
"Once it's lifted in place, there are only eight pins and an electrical connector to add in the middle gantry sections to expand it," Searock says. TyBot is powered by a gas generator, and the wire comes in 15-pound spools. While in operation, ACR says, TyBot does not impede the movement of other construction equipment.
Human interaction isn't going away, however. Here's how ACR describes the installation process in a video:
Before TyBot begins operating, crews place the rebar and tie enough of the intersections to secure it, about 10% of the total job. As crews continue to place and frame the mat, TyBot works behind them tying in the remaining intersections.
As crews finish with the bottom rebar mat, they can place and frame the top rebar mat, following TyBot as it ties the bottom mat. At the end of bottom mat's tying, TyBot is repositioned to start tying the top rebar mat behind the workers.
ACR says TyBot can work on many structures, including bridges, highways and precast systems. It can handle up to 12% grade and 12% super elevation and is compatible with up to #8X#9 rebar. It also can work at night and in inclement weather.
TyBot works best with straight patterns; more custom designs will still require humans, Searock says.
Lease factors
There are currently 10 TyBots working in the U.S.; ACR now offers weekly and monthly leases.
At World of Concrete, ACR said each TyBot carried a $796,000 price tag; however, the company has worked with its supply chain to reduce costs and expects the new sales price to be less. It will make a later announcement on the exact price.
Since TyBot can work from 9 to 100 feet widths, the scale of a project will be a significant cost determinant.
So will your local labor rates.
Because the TyBot can be compared to the cost of a work crew, its lease cost is tied to an area's labor rates. "Our value is dependent upon labor costs," Searock says. "You can't really charge New York rates in South Texas and vice versa."
With the lease, ACR will handle the logistics, including getting the unit to the jobsite and providing a technician to ensure its smooth operation. The lease includes tech support and onsite training.
What's next?
Searock and CEO Stephen Muck founded ACR in 2016. Searock is the roboticist and Muck – serving as chairman and CEO of heavy-civil contracting firm Brayman Construction in Saxonburg, Pennsylvania – brought his real-world perspective of what was needed on the construction site.
"Our goal is to design robots that fit into the current workflow of the industry," says Searock. "We could change the way in which a road or bridge is built that would be more efficient, but that's a bigger leap for the industry to bite off. So we like to do these successive sets of robots that are complementary to each other."
ACR is in the later stages of working on its IronBot platform, designed to get rid of another jobsite hassle: transporting and installing rebar.
The IronBot would install the rebar and precede the TyBot, which ties the rebar. And while it's transporting rebar, IronBot, which can handle up 5,000 pounds total, could also carry other equipment and or materials.
"It really made sense to do the precursor of TyBot," Searock says. "And we will reuse a lot of the TyBot designs and knowledge." Unlike TyBot, however, IronBot will need to work off job specifications.
But please don't think TyBot or IronBot as taking away jobs, Searock stresses. "There are so many other higher skilled tasks that people do and that robots are not good at. This will help contractors get more done with the same amount of people, not less people."
Searock sees future jobsites as a mix of robots and humans working together, with robots doing the dangerous, repetitive, boring jobs. Making workers comfortable with this "new normal of robots" will be similar to the way robots have been assimilated into factories, although the ever-changing jobsite environment is definitely trickier.
"We are in the midst of the beginning of a new industrial revolution around this type technology, and construction could use the help," Searock says.
Here's Equipment World's video that shows the TyBot in action:
And here's an ACR overview of the TyBot process: