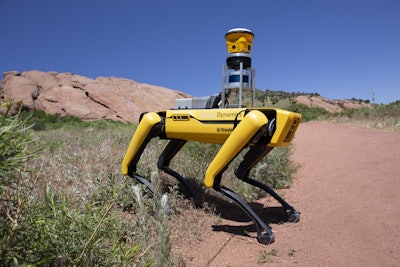 Trimble and Boston Dynamics will further exploit Boston Dynamics' Spot robot platform with a new strategic alliance aimed at automating the collection of data for digital construction site plans.
The robot, shaped somewhat like a dog, can climb stairs and traverse rough terrain, as well as go into dangerous places to reduce safety risks.
The companies intend to enable ways the Spot robot's autonomous mobility can be combined with with Trimble's data collection sensors and field control software. The alliance will look at providing automation of repetitive tasks—such as site scans, surveying and progress monitoring—while taking advantage of the robot's ability to navigate ever-changing and potentially dangerous jobsites.
Under the agreement, Trimble has exclusive rights to sell and support the Spot robot through its dealer network with integrated scanning, total station and GNSS technologies for the construction market.
Integrated with the robot, Trimble technologies will "enable accurate, scalable and rapid data acquisition while using Trimble's construction collaboration platforms" to provide continuous flow of information between field and office, Trimble says.
Trimble says Mortenson, a Minneapolis builder, developer and engineering services provider was one of the first customers to use the technology combination. Mortenson has been using Spot robots with Trimble's SPS986 GNSS solutions to autonomously navigate and continuously document site conditions. This has given Mortenson real-time awareness of project status and helped accelerate projects, according to Trimble.