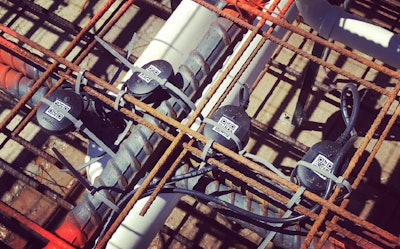 Hilti's new Concrete Sensors will be available nationwide soon, enabling contractors to use a mobile app for real-time monitoring of concrete as it cures and dries, as well as receive tests of the mix design from the company's in-house lab.
Hilti acquired technology startup company Concrete Sensors earlier this year and is rolling out the app, sensors and services under its brand. Hilti Concrete Sensors are currently on sale in some large cities, including Boston, San Francisco and Chicago, ahead of a full launch planned for January.
The sensors are attached to rebar with zip ties within 6 inches of the surface. After the concrete is poured, strength, temperature and relative-humidity data is sent to the app in real time as you walk the site.
Mix components can also be sent to the in-house lab. The lab will test the mixture in water baths of different temperatures. The company says its results are within 1 percent accuracy for testing strength of any mix design at any temperature. The concrete lab complies with ASTM C1074 standards.
Data are stored in the cloud for retrieval at any time. The sensors have a battery life of two-plus years, Hilti says.
The company says it will also provide onsite training and support services for the system. For larger jobsites, contractors can choose to have the company automatically monitor the concrete with a wireless hub.