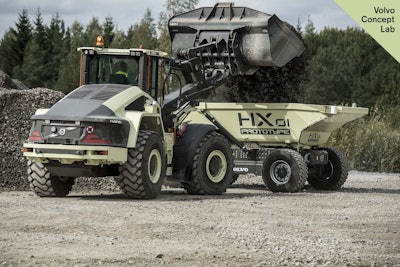 Volvo Construction Equipment will build a $1.7 million expansion of its facilities in Eskilstuna, Sweden, upgrades that will include an arena for customer demonstrations of electric and autonomous machines. The plan also includes a new R&D test track and an energy recovery system for manufacturing facilities at the location.
Volvo CE will add more than 29 acres to its 111-acre demo ground and use them for testing its electric and autonomous machines, as well as demonstrating current machine offerings. Upgrades to the innovation arena will allow the company to show "prototype machines to customers in a realistic and challenging environment in complete safety, supported by 5G technology and with charging infrastructure installed on site," says the company. Plans include a gravel road that runs through both open and closed forest terrain.
Volvo CE also says its existing fleet of combustion engine machines at the Eskilstuna Customer Center will be running on HVO, or hydro-treated vegetable oils. HVO is made from vegetable and animal fats such as rapeseed oil and reduces CO2 emissions by up to 90 percent depending on the raw material, Volvo says. No engine modifications will be required to switch the machines from diesel to HVO.
The announcement falls in line with Volvo CE's long-stated quest for electric and autonomous machines. At its 2016 Xploration Forum, for example, the company unveiled a "pre-prototype" LX1 electric hybrid wheel loader and the HX1 autonomous, fully-electric load carrier. The LX1 has since been tested at Waste Management facilities in the U.S., and both the LX1 and subsequent HX2 were part of the company's Electric Site quarry test last year. The 10-week experiment at a Skanska quarry resulted in a 98 percent carbon emission reduction, Volvo CE said at the test conclusion.
In January, Volvo CE said it would launch up to 10 electric excavators and loaders by 2020, replacing diesel models entirely. The first machines under this initiative, the ECR25 compact excavator and L25 compact wheel loader, were launched at Bauma this year.
Test track investments
At the facility's Technology Center, Volvo CE is investing in test track for research and development of electric and autonomous machines. The HX2 load carrier is currently being tested on the site, and are expected to be tested in a commercial pilot that is expected to start before the end of 2019.
Volvo CE says it has also installed a 5G mast at the Technology Center, used to test remote-controlled machines with short response times. Launched in partnership with telecom provider Telia, it was also Sweden's first 5G network for industrial use.
Other improvements directed at sustainability include an energy recovery system that will transfer 60 percent of the heat generated by a hardening center to a paint shop.