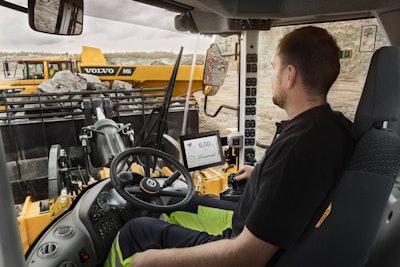 Hoping to give more operators a productivity boost through real-time understanding of just how much dirt they are digging or loading, Volvo Construction Equipment is making two of its Assist data systems standard on a swath of new excavators and loaders.
Dig Assist Start, the basic package of Volvo's excavation measurement system, is now standard on new EC220E to EC480E excavators. Load Assist, the company's payload measurement system for loaders, is now standard on new L150H to L260H loader models.
Both systems are delivered through Volvo's tablet-like Co-Pilot display.
Dig Assist Start features 2D grade control, showing operators when target depth/slope levels have been achieved. The system also features on-board weighing and In-Field Design, which uses GNSS and RTK navigation technology to deliver centimeter accuracy for digging trenches and more complicated shapes in three dimensions. Volvo says In-Field Design eliminates the need for surveyors to mark out the excavation site.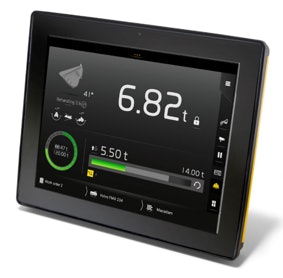 Load Assist features On-Board Weighing, a factory-fit system that can achieve +/- 1% accuracy on every bucket, Volvo says. The system offers real-time insights into the bucket's load, eliminating guesswork and reducing reweighing and reloading. Customers can monitor loading progress, track materials and trucks, and change work orders in seconds.
New to Load Assist is an operator coaching feature to make operators more aware of how their actions influence machine productivity and efficiency. Volvo says it can now provide operators with real-time guidance on issues including idling, braking, throttling and engaging the transmission lock-up. The feature identifies areas for improvement and suggests changes in their driving technique.
Volvo has posted a series of tutorial videos on Load Assist, which you can watch on YouTube.