Announced in 2016 during Volvo Construction Equipment's Xploration Forum, the Electric Site quarry test is now complete, with Volvo declaring that the 10-week experiment with partner-client Skanska resulted in a 98 percent carbon emission reduction.
Volvo CE says the results were "even better than expected," and also showed a 70 percent reduction in energy costs and 40 percent reduction in operator costs. The positive results have prompted the two companies to extend the test period until the end of the year.
The company says the test results are "a big step forward" in achieving its future vision of work sites that are 10 times more efficient with zero accidents, zero unplanned stops and zero emissions. They also "support the potential for 25 percent reduction in total cost of operations," according to a Volvo CE press release.
The results "so far confirm that this research project is a step toward transforming the quarry and aggregates industry and creating emission-free quarries," says Use Muller, Volvo CE's chief project engineer for the Electric Site.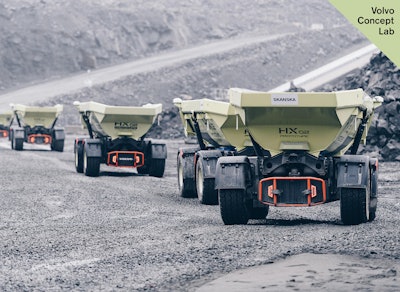 Prototypes to the test
The Electric Site experiment also gave Volvo CE prototype machines a chance to work in a near real-world environment. First shown at the Xploration Forum and later further refined, the HX2 autonomous, battery-electric load carrier was used to transport material from the primary mobile crusher to the secondary static crusher.
The second-generation prototypes use a lithium ion battery to power two electric motors to drive the machine; hydraulics are driven by an additional electric motor. A vision system on the HX2 allows it to detect humans and obstacles around it. It follows an adjustable, pre-programmed GPS path.
The LX1 prototype electric hybrid wheel loader, which has been tested at U.S. waste recovery facilities, also went through its paces during the experiment. Volvo CE says the LX1 delivered more than 50 percent improvement in fuel efficiency at the quarry compared to its convention Volvo L150 counterpart.
During the test, the LX1 organized material piles on site. The series hybrid machine has a driveline that consists of electric drive motors mounted on each wheel, electric-driven hydraulics, an energy storage system, a smaller 3.6-liter engine and machine architecture designed to greatly enhance visibility.
Also playing a key part in the Electric Site fleet, an EX1 70-ton dual-powered, cable-connected excavator loaded the primary crusher. The EX1 uses a Volvo EC750 excavator as its base, and incorporates an electric motor in addition to the diesel engine. The machine was cable connected to the grid, allowing it to start automatically in electric mode, resulting in zero emissions. When not connected to the grid, the machine uses its diesel engine.