At the InterDrone conference in Las Vegas, drone manufacturer Parrot has unveiled a new ultra-compact aircraft the company says is designed with construction and other industrial applications in mind.
The most appealing aspect of the new ANAFI Work drone is its approachability. It weighs less than a pound, folds up into a very compact and easy to tote package, can fly itself and it only runs $1,100. The small drone neatly addresses portability, price and ease of use: all big barriers to entry for prospective commercial customers, including contractors,.
The ANAFI captures 4K HDR video using a 21-megapixel camera. The camera is supported by a three-axis stabilization system to ensure smooth videos and crisp still photos. The camera can be tilted 90 degrees forward and back, allowing it to look straight up for uses such as inspecting balconies and bridges, and straight down for tasks like roof inspections.
The camera also features digital zoom functionality of 1.4x in 4K, 2.8x in 1080p HD and up to 3x in standard definition. Parrot says this digital zoom allows for a closer look at the subject without reducing footage quality.
Another cool aspect of this system is that it comes with four batteries, each giving the ANAFI a respectable 25 minutes of flight time. And if you do somehow drain all those batteries, Parrot says the drone's USB-C charging system allows for quick battery recharges via smartphones, laptops or power banks.
Parrot is stressing the ease of use of the ANAFI Work system. Beyond being easy to deploy anywhere, the drone can be piloted with the FreeFlight 6 app for smartphones. Parrot says the app's intuitive design allows "every professional (to) fly manually and take images of all types of infrastructure." Autonomous surveying flight plans can also be quickly generated within FreeFlight through three pre-integrated piloting modes: Touch&Fly, Point of Interest and Flight Plan.
The ANAFI work can fly in wind of up to 31 miles per hour. Parrot did not provide specifics on the aircraft's range, but said four dual band antennas in the drone "maintain a strong radio connection."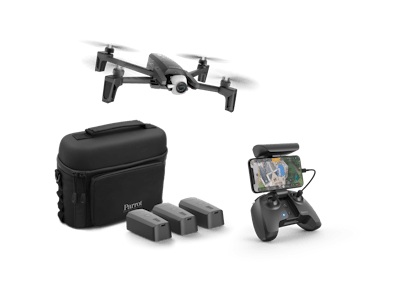 The drone also has return to home and geofencing baked in, eliminating the worry of flyaways and allowing operators to cordon the drone off to flying only within a specified geographic area and operate no higher than a specified height.
In addition to the four battery packs we mentioned above, your $1,100 gets you a charger, water-resistant bag, the Parrot Skycontroller 3, 8 propellers, a 16 gigabyte SD card, USB-A to USB-C cables (handy if none of your current gear has USB-C ports yet), and a one-year subscription to Pix4Dmodel for 3D modeling.
Check out more photos of the ANAFI Work below.