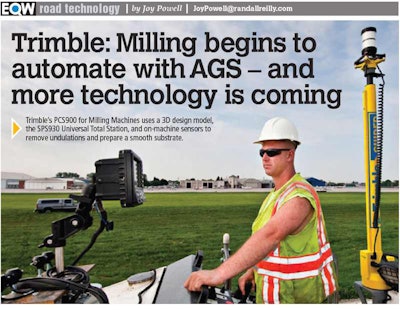 By embracing advanced machine technology in asphalt milling, contractors can maximize quality and smoothness, minimize construction costs and complete projects faster, says Kevin Garcia, business area manager for Trimble Pavement Solutions.
Using best available technology can make good work practices better and make you competitive, all while helping you to build longer lasting roads, he says.
Automation is already transforming the milling and paving industry, thanks to the growing use of automatic grade and slope systems (AGS). They involve setting the depth of the mill and the slope at which you're cutting to maintain a 2D or 3D design. All the operator has to do is propel the mill forward.
"We know where we are on the design, based on the 3D model that's been loaded onto the control box," Garcia says. "The mill will cut accordingly."
Milling control technology comes in varying formats. Your needs and the project specifications will determine which solution you choose.
Two-dimensional (2D) control systems incorporate grade and slope and use any number of sensors, including angle sensors, sonic sensors and lasers. They work from the ground up.
Three-dimensional (3D) machine control solutions use Global Positioning System or total stations to control the machine to a 3D model and offer the highest possible accuracy, as well as the ability to do more complex designs. These work from "the top down," Garcia says.
This technology can be used in any project where a contractor would otherwise use string line, wire or grade marks for elevation grade. It can be used, too, in variable depth and slope paving applications, such as roadways, airports and commercial surfaces.
For Trimble, Garcia serves on a technology leadership group that's exploring milling automation, fleet management and machine-to-machine information.
"We've seen automation and technology assist the manufacturing world immensely," he says. "There's no reason why that won't apply to construction sites as well."
Automation is not just about the quality of the final product. It's also about updating equipment and making life easier for operators, Garcia explains.
"The operators of those machines have a lot of things going on that they're responsible for, and taking away even one of those things, and certainly even two or three at a time, and allowing them to focus on the rest of the list, makes a more efficient, safer and smoother-running operation," he says.
Garcia predicts contractors will see milling machines with automatic steering in the near future, as is now available in concrete pavers and curb-and-gutter machines.
"If the operator sitting on top an asphalt paver didn't have to worry about steering at all, the machine would just go where it needs to go, so that he could focus on materials management," he says.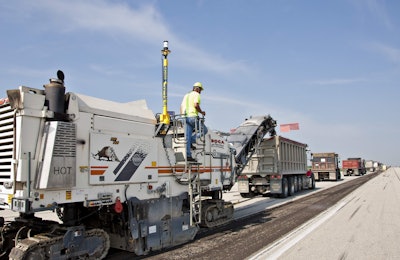 More "task assistance" could involve conveyor belts for mills, Garcia says. Sensors on the belts, and the trucks, will communicate so that instead of the operator needing to steer the conveyor belt, the sensors will automatically move and operate it.
In the early days of machine control, indications would mean that lights would come on, saying you need to come up or down, he says. The operator had to find that sweet spot between up and down and keep his implement there. "Now, as the industry progresses, we can keep that implement there for him automatically," says Garcia.
Manufacturers are also developing automated solutions to enhance worker safety and responding, for example, to DOT requests for technology that will help keep people out of harm's way. A common industry question, Garcia says, is this: "Could I prevent an accident in the field by not allowing an operator to put a machine somewhere where there would be an accident?"
Take the scenario of a large milling machine going under power lines. The operator doesn't notice them, raises his conveyor belt and hits a line.
"We can't do this yet today, but conceivably we could have some awareness of what's above and stop that operator, saying, 'I'm not going to let you do this because you're going to put yourself in harm's way,'" Garcia says.
This might involve not just an alert but map-sharing, in which machines have moving geo-fences and communicate with one another.
People also want safety shutdown devices and detection that go beyond cameras, he says.
"Cameras still require a lot of human intervention, and if the person looking at the camera doesn't do their job, then they're not adding much value. How do we take that responsibility away from operators and do it automatically for them, so they can focus on other things?"
Garcia expects to see more safety interlocks, so the machine can detect when people are not where they are supposed to be and tell the operator it's shutting down until an unpermitted situation is rectified. That could help prevent fatalities.
"What we want to see in the future, with automation pushing industry, is that it wouldn't let you go into that work area. If you actually physically tried to and ignored the alarm, the machine would shut down. And it wouldn't allow you to turn it back on until you left that area."
That could open the door to other technologies, including 3D scans of a jobsite's environment. "Or let's say a municipality decides to do scans so it knows where every asset is, every power line, stop sign, school zone. That information could be put into a library and referenced for future projects, especially as-built information so contractors would know where everything was precisely, with metrics and data in a database," he says.
Such technology is possible but still in the distant future, Garcia says.
"It takes a lot of commitment from owners and agencies," he says. "It's going to take a long time to collect all the data. It's going to take large servers to store all the data. People will learn how to use the data. This is still relatively new technology."