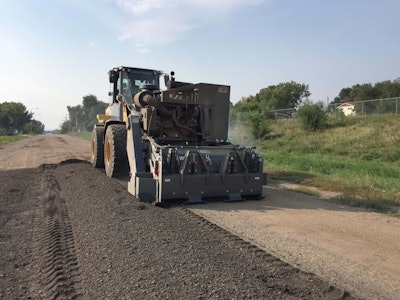 RoadHog has a new attachment to turn your wheel loader into an asphalt milling machine.
The attachment runs on its own engine and hydraulic system, so it does not require power from the loader.
The company says it is ideal for milling asphalt prior to overlay, cutting utility trenches and recycling chip and seal. It can also act as road-base and soil stabilizer, and liquid stabilizers can be added through an optional injection bar mounted over the cutting drum, the company says
The attachment is powered by a Caterpillar turbocharged Tier 4 Final diesel engine. Engine options are 142, 225 or 275 horsepower.
The attachment has a cutting width of 40 to 96 inches and cutting depth of up to 1 foot with replaceable carbide cutting teeth. The machines feature hydraulic control of tilt depth and sideshift via a wireless remote control, the company says.
It is designed for small to mid-sized milling projects, such as city streets prior to overlay and in-place recycling of parking lots.