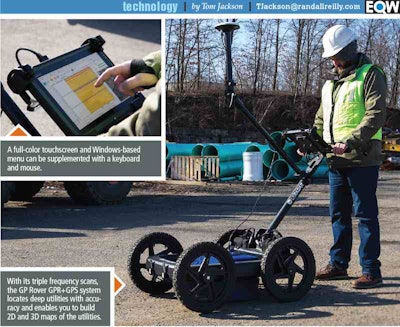 When it comes to locating underground utilities, good contractors know to call 811. The best – and the safest – always back up their 811 locates with their own site survey.
There are lots of detection devices to help you do this, but perhaps none is more versatile than ground penetrating radar or GPR. US Radar recently introduced its GP Rover, which combines the deep scanning ability of GPR with a GPS component that finds the exact location of the utilities and exports data in a variety of formats to create 2D and 3D maps of the world beneath your boots.
The GPS does not require a cell modem, base station or control points but delivers a number of benefits. With it, you can overlay radar data on top of satellite imaging to create utility maps and pinpoint clues such as fire hydrants and other above-ground markers.
With mapping software, the GPS function can create as-built drawings in the field or office and 3D imaging and modeling of the underground utilities. You can also automatically connect with user-identified utilities in 2D or 3D. Patented tilt correction adjusts GPS positions for slopes and cross slopes to improve accuracy on uneven terrain.
On the GPR side, the GP Rover software automatically calibrates the antenna and processing settings to the materials being scanned. Rather than applying gain to a signal that has already been converted to digital (thereby amplifying the noise), this unit's "Quantum" imager applies gain to the raw analog signal as soon as it's received by the antennae and then fine tunes the signal digitally. An algorithm improves image quality and depth of penetration especially in lossy soils.
Additionally, you can measure, mark and label points in the radar data to describe your findings. Onboard processing eliminates the need for most post processing, so you can get your crews the information they need sooner.
The triple frequency radar can find utilities up to 30 feet deep in ideal soils and 15 feet in clay. The wideband 0 MHz to 1,000 MHz system also delivers higher resolution for accurate rendering of small objects like conduit and rebar.
The cart comes with an 11.6-inch, daylight-readable tablet touchscreen with Wi-Fi capabilities and USB Ethernet and HDMI ports. Two eight-hour, swappable battery packs ensure uninterrupted operation in the field. The airless, solid tires never go flat, and a fold down handle makes for easy storage.