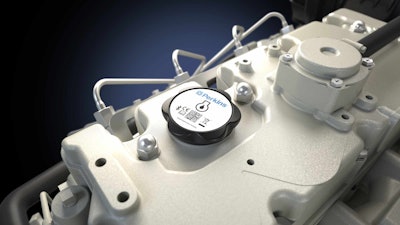 Caterpillar is continuing to develop its Perkins-brand SmartCap engine oil filler cap, named a 2018 Edison Award gold winner earlier this year.
Now in three sizes that fit most Perkins engines ranging from 25 to 270 horsepower, the coming "SmartCap 2" will likely expand to Cat engines and offer additional technology when it's introduced at a later date.
"We've gotten requests for expanding it to other brands, but we haven't developed that strategy right now," says David Nicoll, marketing and dealer operations director, for Cat's Industrial Power Systems Division. Complications include the fact there is no standard size for an oil filler cap, and that the SmartCap connects to Cat servers, Nicoll told Equipment World in a recent visit to Cat's Seguin, Texas engine plant.
The Perkins SmartCap got a lot of attention when it was introduced in 2017, with Perkins billing it as the world's first low-cost engine telematics device. The $50 cap also connects to Perkins' My Engine mobile app for parts ordering and engine management.
"What makes this innovative is that is inexpensive," Nicoll says. "There's no monthly fee, and it's a great way for customers and dealers to track engine hours."
Although it looks like an ordinary oil filler cap, SmartCap is anything but, containing a battery and a sensor. The sensor detects the vibration of the engine when it is running, sending a message to the user's Perkins mobile app via a Bluetooth connection. This information is sent to a cloud-based website, which tracks engine hours. When a scheduled service interval is reached, the app sends the user a reminder.
In addition service reminders, the My Engine app also gives users data on engine location, running hours, service logs, start/stop data, parts books and consumables information.
The SmartCap fits on both mechanical or electronic engines and can be retrofitted on older engines. Its replaceable battery has an expected life of two to three years. Initially sold through dealers, Perkins has indicated it plans to make SmartCap standard equipment on future engines.
Check out the Perkins video below for more info on the SmartCap: