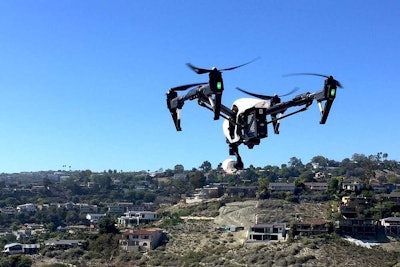 If the momentum of unmanned aircraft and the subsequent uptick of interest in the technology seen from the construction industry in the last few years are any indication, skilled drone pilots might soon become as valuable on jobsites as skilled dozer and excavator operators are now.
In fact, Dan Burton is banking on that very thing.
Burton is the co-founder and CEO of DroneBase, a new service that allows businesses to quickly hire a drone pilot.
In a time where Komatsu has begun pairing its machine-control-equipped earthmoving equipment with drones and selling the combo as a semi-automated site prep service to customers in Japan, the benefits of unmanned aircraft are already clear to many in construction. What's unclear for many, however, is where to get started.
That's where DroneBase comes in. With just a few clicks on the company's website, contractors can request a pilot to take either aerial photos and video of their jobsite or, for jobsites less than 50 acres in size, aerial mapping and surveying is available.
The service is sure to be attractive to those construction firms who are interested, but aren't sure they want to invest the time, money and energy in getting started with the technology—especially when considering the many hoops businesses must jump through until the Federal Aviation Administration finalizes its commercial drone regulations.
"I saw a lot of companies get burned when they tried to bring on drones as a product," Burton says. "I've seen companies dip their toe in with a low-end system only to find out it can't do what they need, but I've also seen them go all-out and pay a lot of money for a system that is obsolete in a year or two."
To illustrate the rapid turnover the technology is experiencing, Burton says high-end drone systems purpose-built for smooth video or surveying capture, would have cost $10,000 and $25,000, respectively, a year ago. Similar systems now run about $2,500 and $5,000.
And those costs don't include the time and money needed to hire and train drone pilots, as proposed FAA regulations will require.
"We're serving companies that could have never afforded (aerial imaging) before," Burton says. "We're trying to level the playing field a little bit."
Air support
Burton first encountered drones while serving in the Marine Corps. As an infantry officer, he quickly learned the benefits of having them in air support rather than the traditional jet or helicpoter.
"Don't get me wrong I was so grateful to have those pilots in air coverage, but they would run out of fuel in just a couple of hours," Burton explains. "The drones could stay overhead 6-8 hours and provided a direct video downlink of what was in front of us. I became a died-in-the-wool believer."
Upon returning home from service, Burton decided to go to business school in the hopes of figuring out a viable way to commercialize the technology he had entrusted his life with while serving overseas. He began to seek out drone operators, learning from them how to build the aircraft and, for those who had already begun selling their services, assisting with their finances.
"These are folks who were by and large, hobbyists. They were just passionate about the technoogy. But then they started to get some part-time work and eventually got to the point where they could quit their jobs," Burton recalls. "It turned out that it was a really good business. … But the sales and marketing that came along with it, they didn't really want to do."
Burton then became a pilot himself. He bought several of the aircraft for himself and began to work the industrial and enterprise corridors in Southern California, "just going to different sites and understanding what people needed," he says.
After seeing the time and savings drones provided, combined with how beneficial aerial imagery can be in construction and other industrial applications, Burton decided to build a serivce that would connect the businesses who needed it with the drone operators he had met along the way.
Priced to fly
Beyond the convenience of hiring a pilot on the internet, DroneBase offers disruptive pricing when it comes to aerial imaging.
For $399, the service offers 15-20 high-resolution aerial photos, 3-4 videos and a final edited video "showing the best" of your jobsite. And $499 will get you a "high-resolution, georeferenced orthomosaic map" along with a "digital surface model and basic aerial topo; and basic surface area and volumetric applications," according to the DroneBase website.
At those prices, construction firms and other businesses can give drone imaging a try at less than half the cost of buying a well-reviewed, entry level (at least for businesses) drone like DJI's Phantom 3. And for those firms who have been hiring airplanes or helicopters for thier aerial imagery, the savings are substantially more drastic, Burton says.
"We go to construction sites that have been paying an airplane service into six figures for quarterly flights over their jobsites," Burton says. "To get a helicopter out is a bit cheaper but still usually between $5,000 and $6,000. So, we're going to places using those legacy systems and giving them the same and better output—at a tenth of those costs and, sometimes, more."
Burton says the company's pricing was established not only in the interests of its customers, but also with that of its pilots in mind. "I'm looking at what the actual economics are for someone who wants to work full-time as a drone pilot," he explains.
With that focus, Burton says, comes a high level of confidence DroneBase customers can put in the company's pilots.
"We want our platform to be a meaninful credential for pilots," Burton says before delving into the training and qualifications the company requires of its operators. "As someone comes on to work for us, we get all of their information. We want to know what systems they have, we have them take a written test and we have them read through several documents, including the FAA regulations," he says, explaining that DroneBase requires its pilots to abide by the FAA's rules, including flying only in the daytime, under 500 feet and keeping the aircraft within sight at all times.
Burton says the company also makes sure its pilots are equipped with the latest drone systems available and that they carry backup aircraft in the event of a technical malfunction. In the future, Burton says the company plans on qualifying pilots based on verticals, such as providing training specifically for flying construction jobsites.
DroneBase pilots are available to companies and individuals across the U.S. Burton says most jobs have a turnaround of about 1 to 2 weeks. In addition to its two standard pricing tiers, Burton says the company offers dynamic pricing should companies be interested in using the service on a more frequent basis than four times a year.
To get started, check out dronebase.com.