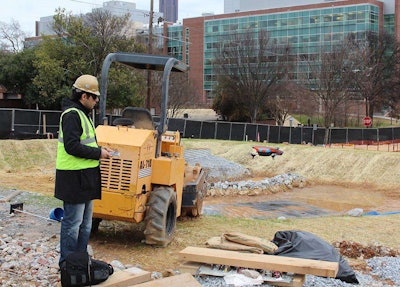 A student in Georgia Tech's School of Building and Construction flies the Parrot AR.Drone at an on-campus jobsite.
W
hile liberating them from school, summer vacation also presents children with a challenge: finding something to do all day. For Richard Evans, that was never the case.
On most of those balmy summer days growing up on Merrit Island, Florida, Evans and his older brother found their way to the private airport a half-mile from their house. They'd lie down in the grass and wait, patiently looking to the bright blue sky until a plane would hum into their vision before landing on the runway nearby.
Fast forward to today and Evans, 61, is still watching in wonder as aircraft fly overhead. The only difference now is that he is in control.
Long an avid model aircraft enthusiast, Evans has found a way to combine his favorite pastime with his career by flying quadricopters (small aircraft with four rotors) at the jobsites of his company, Houston-based contractor SpawGlass. Evans has been using the smallish aircraft, otherwise known as an Unmanned Aerial Vehicle, or UAV, mostly as an experiment to see the type of data it could one day provide the company.
And though Evans' enthusiasm for the technology is evident whenever he talks about the opportunities it represents for the construction industry, most people don't share his excitement.
That's because most would classify the aircraft Evans and many other tinkerers are flying as a "drone." Despite this definition being technically incorrect (more on that in a bit) a recent joint study by the Pew Research Center and Smithsonian magazine found that while 59 percent of Americans feel that most changes in technology are leading to a better future, 63 percent said that future would be worse if the U.S. opened airspace to personal and commercial drones.
Despite the public's concerns, many in the construction industry are finding drones and UAVs can play a vital role in their work. Whether they're used for surveying, to show clients and potential clients an aerial overview of completed projects, to monitor jobsites to ensure safe practices or to inspect bridges and other structures, drones have the potential to become as important a tool to the industry as any piece of yellow iron.
But the biggest hurdle facing contractors interested in exploring this technology is the question of legality. The Federal Aviation Agency prohibits the use of all unmanned aircraft for commercial use without the agency's express approval. The agency lumps both UAVs and drones under the single category of Unmanned Aerial Systems (UAS). However, they've done so with guidelines originally designed for model aircraft and the definition of "commercial use" isn't always cut and dry. (See the sidebar for more.) With the exception of a few experimental and academic research approvals granted by the agency, the result has been several UAV pilots receiving cease-and-desist letters and, in some cases, lawsuits from the FAA, though at least one of those incidents have been struck down by federal judges. Even drone schools, degree programs where students learn to pilot the aircraft, aren't allowed to fly drones at all, forcing instructors to teach using simulators.
The FAA has said that it plans to allow commercial UAS use once it has drawn up proper regulations for the aircraft. The deadline for those regulations is some time in 2015. Until then, it's a promising though somewhat confusing time for those pioneering use of the technology in the construction industry. Nevertheless, drones and UAVs are already flying over jobsites today.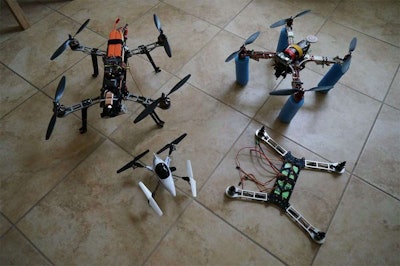 Richard Evans' fleet of custom-built UAVs. (Including one under construction.)
The tinkerer
Georgia Tech associate professor and director of the CONECTech construction technology lab Javier Irizarry discusses the DJI Phantom II UAV with a student.
T
hough he's been in the construction industry for 30 years, Evans' background is computers. He's been the IT manager at SpawGlass for 20 years and was instrumental in ushering the company into the digital age. "I had a strong background in electronic drafting and Business Information Modeling (BIM) when I came here. Every project we do, if we don't have the plans available from the architect, we integrate aerial imagery of a site prior to construction and try to integrate a 3D model over that," he says. "That's something I'm working on for the future. To digitize a geographical terrain of an area for construction so we could bring that into the model."
Evans explains that he got into aircraft modeling as a teenager and, spurred on by a passion for photography, he's actually been flying model planes with cameras attached to them since the 1990s—well before the technology made its way into the general public's consciousness under the name of "drone."
One thing that drew him to UAVs was the ability to have a first-person flying experience through a set of Fat Shark goggles. "It's such an immersive experience. It's just neat to fly around and have that perspective. You feel like a bird," Evans says. "They give you almost like a theater experience while you're flying."
"Yeah, in recent years they've really come on strong. I think I had my first quad-rotor helicopter three years ago," he recalls. "Back then, I just wanted to build what I called a 'flying camera.' I didn't even think to call it a 'drone' then because it was still a few years before the military term 'drone' got transferred to little five pound devices that are actually UAVs."
Evans says he spent between $1,500 and $2,000 to build his first UAV from custom parts. Including that first rig, Evans' fleet has now grown to six, including one that fits in a shirt pocket. "The one I put together recently has achieved some goals I couldn't do with the others. I wanted to increase the range and fly further away as well as increase the range of the video transmission that comes back," he says. "I went from six minutes of flight to 15 minutes of flight and as far as the video goes, my original configurations gave me half-a-mile of transmission and that's now up to 20 miles."
One thing that drew him to UAVs was the ability to have a first-person flying experience through a set of Fat Shark goggles. "It's such an immersive experience. It's just neat to fly around and have that perspective. You feel like a bird," Evans says. "They give you almost like a theater experience while you're flying."
Evans says he began flying the UAVs at SpawGlass jobsites initially for fun. But it wasn't long before he realized the aircraft could provide serious benefits for the company. "We flew it at one jobsite that was probably about a $60 million job for a high-profile client. We flew around and got a lot of footage of it and it was very impressive. We realized that we couldn't have done that with the aerial photography service which we have been using for years. This wasn't just still snapshots. It showed the property off in a way that made us realize that we had in many ways was a great marketing tool," he says.
Richard Evans' latest custom UAV extended his flight time from 6 minutes to 15 minutes and can transmit video from up to 20 miles away.
Evans explains that the UAV use is still very much in the experimental phase at SpawGlass. The company still gets the majority of its jobsite views using an aerial photography service, but Evans says there is great potential in fully replacing that service with UAVs.
"We still haven't said let's do it all with the UAV. If so, we have to be serious about it. Because if I go fly once a month on every job that would be my whole job. I wouldn't have time for anything else," Evans says. "We're getting to the point where we're starting to do it very seriously though. Job progress documentation is very important and it can do a very good job at that. It can get down close and look at things in detail. We can go up and look at things that are very difficult to get to."
Evans estimates he's flown at about 20 jobsites, noting that safety is always his first priority along with respecting the FAA's model aircraft guidelines.
"I've done project after project at this point and most of them stay internal. Basically I stay under 400 feet. I stay out of positions where I'm over people who are unaware. Fortunately, people on the jobsites are aware of what I'm doing and have hard hats on," he says. "We always have the permission of the owner on the property and we are definitely sensitive to the customer's wishes. We ask the customer before we show anybody or post it on YouTube. So far, we haven't had a customer turn us down."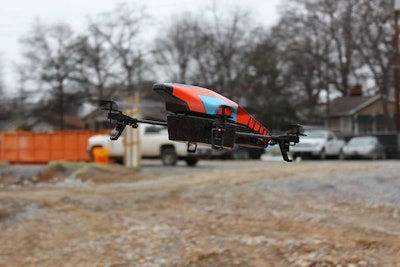 The Parrot AR.Drone can be bought for as little as $300.
The researcher
J
avier Irizarry is one of those few people who have received permission from the federal government to fly UAVs at work. As an associate professor at Georgia Tech's School of Building and Construction, Irizarry and the CONECTech construction technology lab he directs received a $75,000 grant from the Federal Highway Administration and the Georgia Department of Transportation last year to study the potential uses of UAVs in highway construction and monitoring.
When asked what he thinks about the general public's mistrust of the technology, Irizarry points to that term "drone." He talks about the negative connotations it carries—many of them militaristic—noting that, unfortunately, it's become the news media's go-to term for small, camera-toting aircraft without pilots.
And then he points out that the term is often used incorrectly.
"It's unmanned, not completely autonomous" Irizarry says, holding up a Parrot AR UAV. He explains that the term drone, technically, only applies to aircraft that fly independently of human control. "What we have been looking at for our research here is the UAV. Not the autonomous vehicles."
"Once the FAA finalizes its regulations, a gun's going to go off and everybody's going to race. There are already academic programs that we've seen…
— Javier Irizarry
Another particularly interesting aspect of Irizarry's UAV research is that it centers around relatively inexpensive aircraft. The Parrot AR in CONECTech's lab can be had for as little as $300 and can be controlled from an iPhone or iPad. The most expensive UAV in the CONECTech fleet is a DJI Phantom II which Irizarry said the lab bought in April for around $1,300. The lab has made a concentrated effort on testing relatively inexpensive UAVs under the assumption that most contractors would be more willing to adopt more inexpensive versions of the technology since its use isn't yet widespread.
The study funded by the FHA/GDOT grant lasted for about a year, Irizarry said, and during that time he and his students explored ways the UAVs could make everyday DOT tasks more efficient. To create a running list of tasks to try out with UAVs, the research team interviewed about 20 people at various levels within the GDOT. Of the tasks mentioned by GDOT employees, many had to do with ways to more easily monitor and manage traffic such as using UAVs to assist in traffic light programming, getting fast and more comprehensive views of wrecks and even monitoring how well airports accommodate landing aircraft.
But two of the tasks Irizarry and his students grappled with involved road construction. One involved using UAVs to visually verify steps in road work such as counting the number of stripes painted along a newly paved road or counting the number of guard rails installed. The other involved making bridge inspections easier and more thorough. "There's a job the DOT has to do that requires inspectors to visually inspect the underside of bridges. They can do that from underneath from the supports but that only allows you to see only so much, particularly if the bridge is long and over water," Irizarry says. He explains that by flying UAVs beneath the bridge, inspectors can get a detailed view of the bridge components in far less time.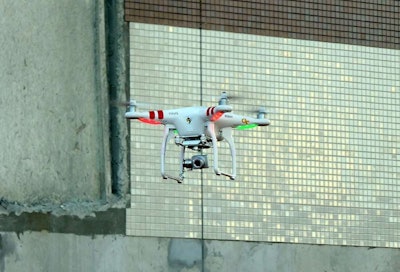 The DJI Phantom II produces stunning video and retails for around $1,300.
Irizarry says he'll be publishing much of his lab's findings from the DOT study in the next year. And though that study has ended, he and his students are still running experiments and exploring use cases of UAVs on construction jobsites, focusing mainly on safety management applications.
Before the DOT study even began, Irizarry and his students were trying to determine the usability of cheaper UAVs based on the current quality of images they capture. They ran this test with with the Parrot which captures 720p images. While resolutions of 1080p and higher are obviously more ideal, Irizarry said he and the students were interested to see just how much information they could gather about the status of a jobsite from the 720p image: the number of workers present, how many were correctly wearing their personal protective equipment (PPE) and even seeing if they could check the status of equipment.
The DJI Phantom II is $1,000 more expensive than the simple Parrot but based on the images Irizarry has been able to capture with it, the extra investment pays off. In a video shot at a jobsite in Sao Paulo, Brazil, the Phantom travels high into the air providing an incredibly crisp and smooth image of the jobsite. Beyond the ability to monitor safety, an image this clear would allow contractors to monitor jobsites from afar in a whole new way.
Irizarry says he expects things to only get better in the next five or 10 years.
"Once the FAA finalizes its regulations, a gun's going to go off and everybody's going to race. There are already academic programs that we've seen. (Embry-Riddle Aeronautical University) already has a drone degree," Irizarry explains. "I'm sure that you know how surveyors used to use a simple measuring line. Now they use total stations and GPS rovers. You can imagine a specialty trade would adopt something like this to maybe do surveys with UAVs. Some will add the technology to professions that already exist but new professions or trades could arise that use just the UAV."
Irizarry said he expects such companies to pop up at some point in the near future. Of course, Irizarry was unaware that Tommy Tomsu is more than a few steps ahead of him.


The surveyor
A student in Georgia Tech's School of Building and Construction prepares to pilot a Parrot AR.Drone at an on-campus jobsite.
W
hile it might surprise you that Tommy Tomsu is working to start his own drone surveying company in as soon as the next few weeks, well before the FAA has even released its regulations, Tomsu isn't exactly the type of person to ask permission before following a dream.
He got his start in construction at only 15 years old, lying about his age for three years as he worked on the pipe crew and dirt side for a company before graduating high school. In 1995 he got a job with Leander, Texas-based H.L. Chapman Pipeline, one of the largest custom trenching and mass rock excavating companies in the world. He started in the lowly position of swamper, assisting operators and technicians where needed as the machines dug. But in seven months' time, Tomsu says he worked his way up the ladder to superintendent of the company's milling division, managing a dozen milling machines across the U.S.
"And that's how I got into surveying," Tomsu explains. "We were being paid by the cubic yard of rock, about $18 to $35. That was pretty expensive so we wanted to know what we were cutting. Nothing was ever matching up with what the owner or whoever we were cutting for said. They always said it was less than I thought we were doing. Eventually I found out a lot of these quantities were based on aerial photography."
So in 1996 Tomsu says he learned how to operate a total station to record the existing ground and found it to be a lot more accurate than aerial photography. Then, he learned GPS and machine control, installing one of the first dozer systems Trimble offered on a rock milling machine. Tomsu says that by 1998 he was building full 3D models for the civil engineers designing the projects HL Chapman was cutting.
"What looked good on paper didn't always look good on the ground. During the design phase they started sending me their stuff because we were the only game in town," Tomsu says. "To be able to model stuff before it was finalized, they could look at the quantities and were able to value a lot more accurately. I knew what was actually going to work in the field."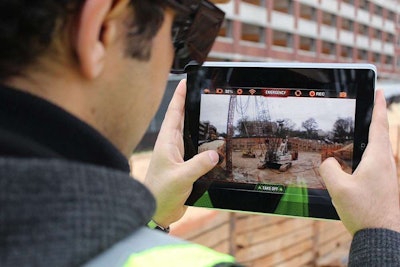 The Parrot AR.Drone transmits live video to the smartphone or tablet controlling it.
With his 3D modeling in great demand, Tomsu left Chapman and started his own consulting firm in 2003, surveying for contractors and engineers and building models. Three years later, two engineers in San Antonio bought the company. He remained there until March 2011 before heading out on his own again to start up another company, this time a civil engineering firm named Tomsu Group. "We want to be that supplemental design grading expert. We go after the smaller jobs that the bigger guys don't want. We still build lots of models. Typically, if somebody doesn't have a guy in house we build the model. We focus more on the engineering now but I still like doing the stuff for contractors," he says.
Not one to stand still, Tomsu is now working on launching another company that combines his love of modeling with the hobby of R/C helicopter flying which he began in the late 1990s.
However, while much of the research behind the new venture has been done with a six-rotor UAV, or hexacopter, once the company gets off the ground Tomsu wants to use small, single-wing airplanes known as "flying wings" to do the actual surveying. More importantly, he wants them to operate not as UAVs but as full-fledged drones, flying autonomously along a predefined course. Though Tomsu's drone is a custom build, it's similar in operation and design to current UAS offerings from Trimble and Topcon.
However, Tomsu says his finalized custom build will come nowhere near those aircraft in terms of cost. Trimble's UX5 drone starts at $50,000 while Topcon's Sirius base model is $42,000 with a "Pro" model priced at $53,000.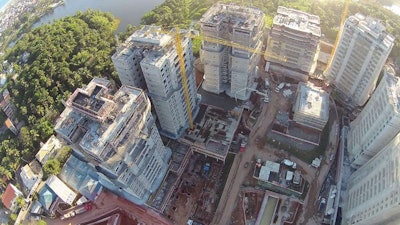 An image captured by a DJI Phantom II high above a jobsite in Salvador, Brazil.
"The reason that we're going with the (flying wing) is they can cover a lot more ground on a single battery charge. The best I'm getting on the hexicopter right now is 12 minutes per flight, covering about 20 acres," Tomsu says. "With the flying wing, we're estimating at the speeds we're getting we can probably do more than 200 acres in 30 minutes."
Tomsu explained the drone surveying process begins with setting control points on the ground being surveyed. One way to set these points is to position four-foot-by-eight-foot sheets of drywall with black marks in the center at various positions around the site. "You have to have something on the ground you know the exact position of that can also be seen from the aircraft," he explains.
Then, you've got to tell the drone where to fly through a GPS automation system. On his hexicopter, Tomsu uses DJI's Naza-M V2. The system allows Tomsu to set up to 16 waypoints which he arranges in a back-and-forth pattern, "similar to how you'd mow your grass," he says. Tomsu says DJI's professional series system allows setting up to 50 waypoints but says he hasn't done a job yet that has required that many. He notes that when he moves to the flying wing drone, he'll use a system called Pixhawk by 3DR Robotics.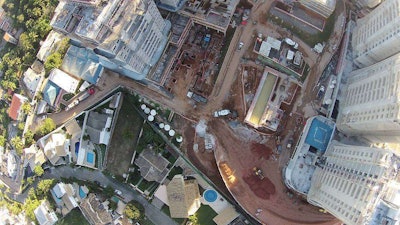 Another shot from a Phantom II above Salvador.
After mapping out the route, the drone is launched, typically flying between 100 and 300 feet as it captures photo after photo of the site below. After it has flown, Tomsu says he takes a look at the photos capture to make sure the images are crisp and able to be processed into a sharp map. With photos in hand, Tomsu uses a piece of software called Pix4D which positions and stitches the pictures together into a 3D point cloud or map.
So far, the main challenge Tomsu has had with the venture has been figuring out how to slow the flying wing drone down. That's because if the aircraft is moving too quickly, the Canon SS260 camera onboard isn't able to take enough images to create a complete model of the land being surveyed. Beyond that, the images can be blurry if the aircraft is moving too fast as well.
The other challenge has been insurance.
"Our current insurance company said 'no.' But there are some companies that handle just aviation insurance that are inserting drones and have no problem with it so it's apparently not that big of a deal with them," Tomsu explains.


The FAA and the future
W
hen asked about the FAA's possible objections to his new company, Tomsu says it's not a concern for him. "The FAA is being stupid. They're putting out this misperception that it's illegal," he says.
And though Tomsu supports the agency's decision to implement regulations in order to ensure the safety of what he believes will be a big industry, he says there's "no way" the FAA finalizes such regulations by 2015.
Evans too supports regulation in order to make sure use of UAVs and drones on jobsites is as safe as possible. "UAVs have so many uses and have so much promise that they will be a widely used technology for the future. We want to minimize things that could ban the technology," Evans says. "I expect the FAA will come out with a way to rate competency and they may also require some safety measures to decrease the chances of colliding with other aircraft."
"UAVs have so many uses and have so much promise that they will be a widely used technology for the future. We want to minimize things that could ban the technology."
— Richard Evans
However, Evans says he's concerned that the regulations the agency implements could overreach. "Often times the government does too much. For instance if they require you to file a flight plan for UAVs, that might kill the potential for an industry. People aren't going to want to do that," he says. "I'm hopeful, but it's the people that push the FAA around that will have a knee-jerk reaction."
Meanwhile, Tomsu says he's already got clients lined up.
"I really want to go after quarries nationwide. That's going to be a huge business. Many of them have no clue how much material they have on hand. Stuff is moving so fast in construction when they're producing their aggregates they have to shut down and retool to create a different size of material. They know how much they sell but not how much they create," he says. "I want to build 500 of these flying wings and I'd like to work out a yearly contract with quarries where I do weekly surveys with drones."
Tomsu recently tested his process on about 50 acres at a rail station stockpile that supplies the Eagle Ford Shale. He says it took three flights with the hexicopter and gave him the opportunity to compare the data he can gather to LiDAR, the laser-based measurement technology the stockpile currently uses. The video above is a sample of the resulting 3D model.
"I think it's great because everybody is scared to death because they think flying these things is illegal," he says. "I know what it is. I know it's not illegal and I'm going ahead and I'll be ahead of them."