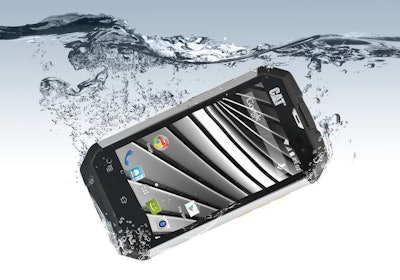 [imagebrowser id=93]
A little over a year after releasing its first rugged smartphone, the B15, Caterpillar has upgraded the device with a new, more powerful processor, more RAM and the latest version of Android, 4.4 KitKat.
In fact, the B15Q is the first rugged smarpthone to support KitKat. That's due to the internal upgrades Cat has made to the phone to make it a bit more powerful. The B15Q features a quad core 1.3 GHz processor, up from a 1 GHz, dual core processor processor in the B15. The B15Q also has double the RAM of the previous version with 1GB.
Connectivity on the device has been improved with the more power-efficient Bluetooth 4.0 and Cat improved the phone's sound quality with a larger speaker and the addition of Waves Audio technology. The phone's noise canceling capability has been improved as well through the addition of a second microphone allowing you to talk clearly even on the loudest of jobsites.
Cat also doubled the amount of storage space the phone supports. The phone ships with 4GB of internal storage space, but with a microSD card you can expand it to 64GB, up from 32.
A lot about the phone stays the same, however. For instance, if you were hoping for a larger or higher-resolution screen on the B15, you'll have wait a bit longer. The B15Q retains the 4-inch 800 x 480 display from the previous model. The camera is the same 5MP shooter as well.
There's still no 4G LTE support either, so you'll have to make do with 3G on either AT&T or T-Mobile when the phone comes to the states.
Most importantly, the phone is just as durable as the previous version. It still has the military spec IP67 rating making it waterproof, dustproof and able to survive a 5.9-foot drop to concrete. The device can also operate in temperatures ranging from 122F to -4F.
The size of the device hasn't changed either, remaining a light-for-this-category 170 grams.
There's no word yet on North American availability though Cat has said the phone is coming to Europe in early July for the same price as its predecessor, £299, roughly $507 U.S. dollars.
In a prepared statement, Chief Operating Officer of Cat phones Oliver Schulte called the B15Q a milestone in the company's goal of "becoming the number one global rugged device vendor by 2015."