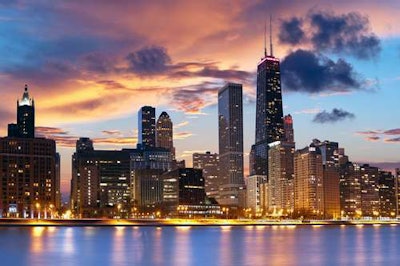 Hey gang. Just a friendly reminder to be sure and check out EquipmentWorld.com on Thursday and Friday as I'll be making the trip to Chicago for the 2012 Associated General Contractors of America IT Forum. And I'll be blogging and tweeting the latest throughout the conference.
I'll be flying into Chicago Thursday morning and the conference kicks off around noon with lunch and what is sure to be an interesting keynote on construction collaboration and integration with cloud computing platforms. Following that initial keynote, there will be some demos and some breakout sessions on how to integrate mobile devices like iPhones and iPads as well as Android devices during jobsite applications.
Friday will see a lot of talk on affordable solutions for construction IT professionals as well as discussion on what's new in construction IT tech. You can see the full schedule for the conference by clicking here.
So be sure to check back here on the Construction Blog for all the latest from the conference over the next couple of days. And follow me on Twitter (@EquipmentEditor) for even more up to the minute updates, insights and sights and sounds from the conference and Chicago. To get to my Twitter page, click the link right above, or click the Follow button on the tweet you see below. You can also get to the IT Forum Confernece's page by clicking their @AGCIT username within that tweet.
Excited about heading out to Chicago tomorrow morning for the @AGCIT Forum Conference.

— Wayne Grayson (@EquipmentEditor) August 15, 2012